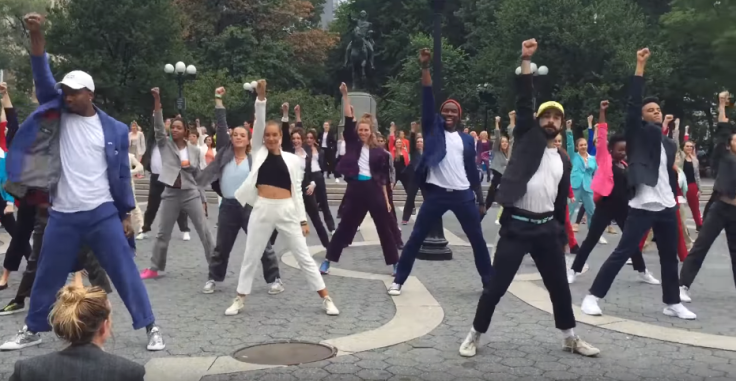 Hillary Clinton supporters took to the streets of Manhattan for a colourful tribute to the Democratic presidential nominee on 2 October in the form of a flash mob. The dress code? Pantsuits, obviously!
More than 200 dancers donned brightly coloured matching jackets and trousers and collected at Union Square in New York City to perform an adrenaline-pumped dance to Justin Timberlake's Can't Stop The Feeling, as pedestrians and tourists watched.
The group — a mix of professional dancers and enthusiasts, including some from the Martha Graham Dance Company and members of Broadway's Fiddler on the Roof, were organised by Celia Rowlson-Hall and Mia Lidofsky. "We just haven't seen the same kind of rallies around her," Rowlson-Hall said after the performance via Elle. "And as filmmakers and artists, [Mia and I] felt that we needed to help Hillary out the way that we know how.
"We've been upset to see all the hatred against her, and the focus on her pneumonia, and [the portrayal of] her as a weaker individual when she's so strong, so smart, so eloquent," Lidofsky said adding, "They shouldn't be sharing the same stage," referring to Donald Trump.
As for all those pantsuits, she joked, "We've cleared every Goodwill and thrift store in New York!"
Co-choreographer Crishon Jerome explained on Facebook that the flash mob aimed to combine "art with a bit of activism" for those who did not want "to see this country ruled under Donald".
"Now is the time to stand up against this bully," he wrote.
"Action here is a stand against racism, sexism, homophobia, classism, injustice and so much more. It's a stand for PEACE, LOVE and EQUALITY."