CNN is facing a public backlash after revealing it tracked down a Reddit user who superimposed the CNN logo onto an old video of President Donald Trump from a wrestling TV show and made it into a humorous animated gif.
Thousands of users have taken to Twitter on the hashtag #CNNBlackmail, accusing CNN of intimidation and harassment for stating that it reserves the right to publish the true identity of Reddit user HanA**holeSolo if he ever posts content critical of the American broadcaster again.
Fans of The_Donald subreddit on the social aggregation website have also started making more anti-CNN memes and posting content critical of the broadcaster, challenging it to come after all of them too.
A list of CNN's sponsors has also been posted too, and users are being encouraged to complain and ask the sponsors to stop supporting the news outlet.
Trump's supporters believe that CNN is "showing its true colours" by making threats over gifs, which they see as a joke and as an expression of freedom of speech, which is protected under the First Amendment of the US Constitution.
A storm over an animated gif
The gif that started it all includes footage from WWE Wrestlemania in 2007, where Trump bodyslams WWE's chief executive Vince McMahon in a "Battle of the Millionaires".
The gif was uploaded to Reddit on Wednesday 28 June, and then shared by Trump on Twitter on 2 July, this time with sound added in and turned into a video.
The gif was made by Reddit user HanA**holeSolo, who routinely makes controversial posts on the social aggregation site in The_Donald sub-Reddit.
On 5 July, CNN announced in an article that its KFile investigation team had managed to track down the person behind the HanA**holeSolo Reddit account by analysing information he posted on the site and using it to find him on Facebook.
KFile had emailed and phoned the man on 3 July, but he did not respond. A day later, HanA**holeSolo posted an apology to CNN via The_Donald, as well as apologising for other posts he made featuring racist and anti-Semitic content.
He also proceeded to delete many of his posts on The_Donald subreddit, and according to KFile reporter Andrew Kaczynski, rang CNN to apologise on the phone as well.
An apology, and a threat
"The meme was created purely as satire, it was not meant to be a call to violence against CNN or any other news affiliation. I had no idea anyone would take it and put sound to it and then have it put up on the President's Twitter feed. It was a prank, nothing more," he wrote on Reddit.
"I have the highest respect for the journalist community and they put their lives on the line every day with the jobs that they do in reporting the news."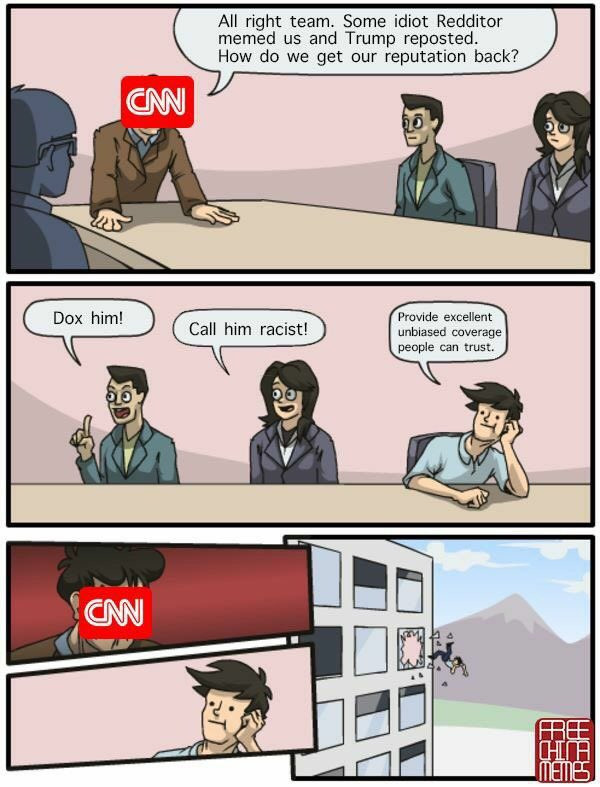 In response, CNN wrote in the article that it would not publish HanA**holeSolo's name since he issued a statement of apology, but there is a caveat: "CNN is not publishing 'HanA**holeSolo's' name because he is a private citizen who has issued an extensive statement of apology, showed his remorse by saying he has taken down all his offending posts, and because he said he is not going to repeat this ugly behavior on social media again. In addition, he said his statement could serve as an example to others not to do the same.
"CNN reserves the right to publish his identity should any of that change."
"All of the internet against them"
The lead moderator of The_Donald has given an interview to Russian state broadcaster RT, saying: "This is an attack on the Internet and CNN has informally declared war upon it. In return we need to hit CNN where it hurts, and tell the advertising companies... that you do not approve of them by running ads at the network or endorsing CNN by running ads."
But it's not just people angered by CNN's statement that are posting using #CNNBlackmail on Twitter. Donald Trump's son Donald Trump Jr and various Trump supporters have been tweeting about the issue, and in some cases, directly harrassing members of CNN's KFiles team.
KFile reporter Andrew Kaczynski has been arguing with numerous Twitter users, insisting that CNN is not threatening the Reddit user.