Bandai Namco has revealed the first look at Code Vein, a new role-playing game from the development team behind God Eater. The game is a "dungeon exploration-type, hard action RPG" according to the publisher.
Code Vein was teased last week with a short teaser bearing the tagline 'Prepare to Dine', which got fans of From Software's Souls games excited. It turns out the game has nothing to do with the popular series however.
In fact the game is an RPG set in a ruinous near-future world inhabited by vampires with supernatural abilities. These Revenants are beings that have lost most of their human memories, and who need blood to prevent becoming a Lost.
It's through drinking blood that players will gain new abilities.
Players will take control of one of these Revenants, and will team up with other players as they learn more about what happened to the world around them.
Developed in Unreal Engine 4, the game's development is being overseen by director Hiroshi Yoshimura, producer Keita Iizuka and project leader Yusuke Tomizawa. Lizuka said: "We are developing it as a new title that offers a new game experience."
Bandai Namco has said that the first look at gameplay from Code Vein will arrive in early May. No firm platform information was announced, but it has been said that the game is being developed for consoles.
Code Vein will launch in 2018.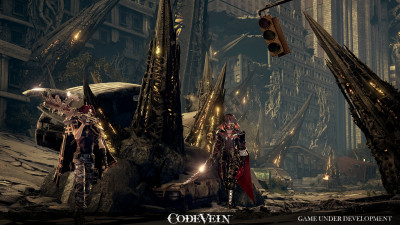 For all the latest video game news follow us on Twitter @IBTGamesUK.