The Big Lebowski has become a huge cult hit since its 1998 release, and fans of the movie have always held out the hope that there would one day be a sequel. It didn't exactly make a killing at the box-office, earning $46.2m worldwide (£31.7m), but found its following on DVD. However, much to our disappointment, the filmmakers behind it, Joel and Ethan Coen, have confirmed that it'll never happen.
"Tara Reid [who starred as Bunny Lebowski] likes to announce it [the sequel] just like Clooney likes to announce Hail, Caesar," Joel recently admitted in an interview with Variety. "In this case, I don't think we'll oblige." When asked by reporters whether they could even envisage a spin-off of the character Jesus, played by one of their favoured actors John Turturro, Ethan simply replied: "No".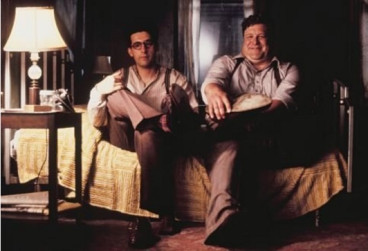 However, even though it seems pretty certain they won't follow up The Big Lebowski, the Minnesota-born brothers are eyeing up a second instalment for another of their films. "We're going to do a Barton Fink sequel at some point. It's going to be [John] Turturro in Berkeley in the 1960s," Ethan explained, citing the 1991 picture about a 1940s playwright who tries to make it in Hollywood.
"That's the one movie that we thought deserved a sequel, called Old Fink. But we don't want to do it until Turturro is quite old. He's getting there."
One Coen brothers property that has been continued is Noah Hawley's small-screen adaptation of their 1996 film Fargo. The first two seasons, which the duo executive produced, were both critical and commercial successes, and a third is already set to be broadcast sometime in 2017.
For more entertainment news follow A-List on Twitter @Alistinsider