Almost all members of the Revolutionary Armed Forces of Colombia (Farc) have been sent to designated demobilisation zones of the United Nations across the country and the process of disarmament can now begin, President Juan Manuel Santos said on Monday (20 February).
"This weekend the process of mobilisation toward the zones was completed and the protocols of the bilateral and definitive ceasefire and the abandonment of arms has begun," Santos said in southern Putumayo province.
According to Reuters, almost 7,000 rebels have reached 26 designated demobilisation zones monitored by UN personnel where they will soon begin surrendering their weapons in accordance with the historic peace agreement signed between them and the Colombian government in November 2016.
In an October 2016 referendum, the Farc peace deal was rejected by Colombians, but Santos' government succeeded in signing a revised peace deal to end the violence that claimed the lives of more than 200,000 people over five decades. The first deal, signed on 26 September 2016, was crticised for being too lenient towards the rebels.
After the revised accord was signed, the Colombian government pardoned 110 rebel leaders and fighters. Under the new deal, rebels would surrender their arms and will be allowed to form a political party to join mainstream politics.
Meanwhile, President Santos said that the disarmament process is likely to be completed by June. Following the signing of the deal, Farc rebels have travelled on foot and by boat from jungle and mountain camps to UN demobilisation zones, Reuters reported.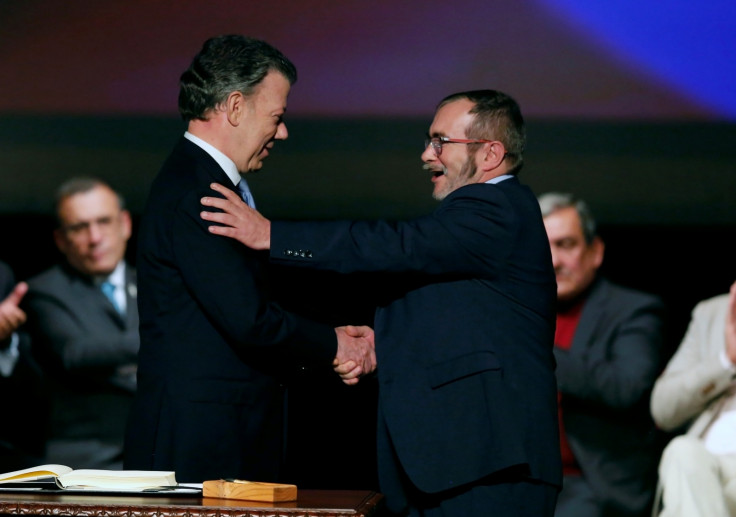 The Colombian government is now negotiating a peace deal with another rebel group called the ELN.