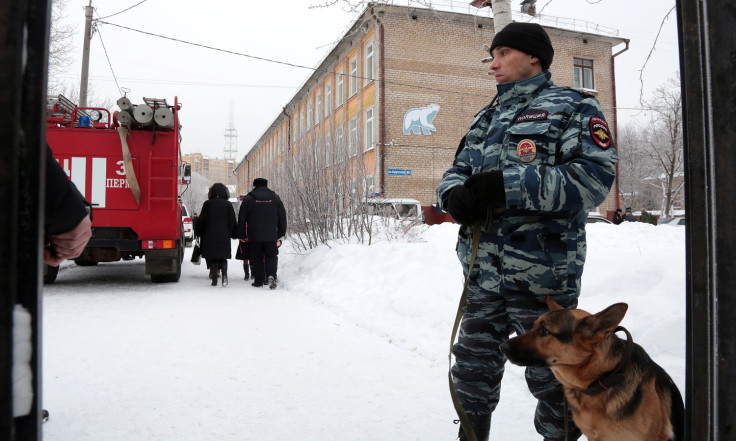 Fourteen students and a teacher were stabbed when a knife fight between two students escalated out of control at a Russian school earlier today (15 January). The student who reportedly started the fight was reported to have been a "big fan" of the Columbine school massacre.
The attack took place in Perm, western Russia and the two teens were detained by police after attempting to take their own lives. Those injured included a 16-year-old and 10-year-old said to have sustained neck wounds.
"A mass brawl involving the use of cold weapons took place between two teenagers aged 17 and 16, who are related to this school," Sergey Sarapultsev, deputy head of the Investigation Department for the region, told reporters (via RT).
"The individuals who have injured themselves and others are boys, their condition is now being established, they are in hospital.
"It will also be determined whether they acted under the influence of alcohol, drugs or else. All witnesses will be interviewed in the shortest possible time," he added.
The local health ministry confirmed the 16-year-old and the female teacher were in a "serious condition" with other reports describing their prospects as "grave" .
A source in Russia's Federal Security Service (FSB) said (via The Sun): "Two criminals in masks attacked a teacher and students. As a result of armed attack, nine people received knife wounds – one teacher and eight students."
Some of the wounded fled the scene to a nearby shopping centre.
The father of a pupil at the school - not believed to be one of the injured - said: "The school told my wife two intruders armed with knives attacked a chemistry teacher and pupils in room 39, and they were stabbing them on their necks."
A student from the school told local journalists: "We were having geography lesson on the third floor of the school where everything happened. We heard fire alarm and teachers started walking us out of classrooms."
He also described the scene, indicating a fire had been started at the school as well. "When we were leaving, we saw drops of blood every five metres. When we left [the building], we saw smoke coming out of a window on the third floor.
"At first we were told that a lamp exploded and allegedly injured some children. From my classmates I heard that a stranger or even two entered the building and wounded our chemistry teacher and several children."
The two suspects are believed to have been "big fans" of the Columbine High School Massacre of 1999, during which two students murdered 12 pupils and a teacher and injured 24 others before taking their own lives.