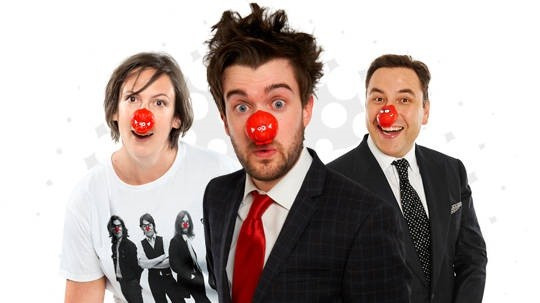 Comic Relief has said it will no longer invest money into alcohol, tobacco and weapons manufacturing firms following a Panorama investigation into the charity's share holdings.
The decision came after a review into the charity's investment policy was ordered after BBC's Panorama accused Comic Relief of contradicting its core aims by investing in companies such as defence contractor BAE Systems and alcohol producer Diageo.
As well as imposing a "small number of absolute prohibitions" which will lead to certain investments ending, the review panel – chaired by John Kingston OBE, chair of the Association of Charitable Foundations – recommended four other changes.
The Red Nose Day and Sports Relief charity promised to be more transparent with how it invested money raised during its appeals, and to build stronger links between the investment committee and the charity's trustees.
The review panel also recommended that the charity should sign up to a United Nations responsible investment policy.
"Comic Relief should screen out the sectors (or companies) that directly conflict with its vision or bring the most reputational risk," the charity said.
"To avoid an excessive reduction in the universe available for investment, trustees should aim for only a small number of absolute prohibitions.
"The decision to exclude these areas results from an analysis examining controversial sectors against three criteria: Comic Relief's vision of a just world, free from poverty, its grant-making programme, and public opinion."
The charity added the new policy will strive to "do good rather than merely preventing doing harm".
The Panorama investigation, aired in December 2013, claimed the charity had invested millions of pounds over the years into weapons, alcohol, and tobacco companies.
At the time Comic Relief said it used managed funds, including the stock market, to invest the money it holds on the charity's behalf.
Panorama revealed that some of these investments – sometimes millions of pounds – were used to buy shares in ethically questionable firms such as tobacco companies.
Tim Davie, chair of Comic Relief said: "This was an excellent piece of work by the review panel and I'm pleased to accept all five recommendations in full.
"Public trust is the cornerstone of Comic Relief and we would be nothing without our many supporters to whom we have listened and will keep listening.
"We now have an investment policy that is firmly in line with the ethos of the charity, at the same time as making sure that the money we raise can go further to change lives both here in the UK and abroad."
Kingston added: "I was pleased to chair Comic Relief's Investment Review Panel. This is both an important and a complex area, and I am glad that the trustees accepted all our recommendations. I hope the report will help other charities as they consider similar investment policy issues."
The charity did rule out pulling out of investing in other companies which could be ethically objectionable.