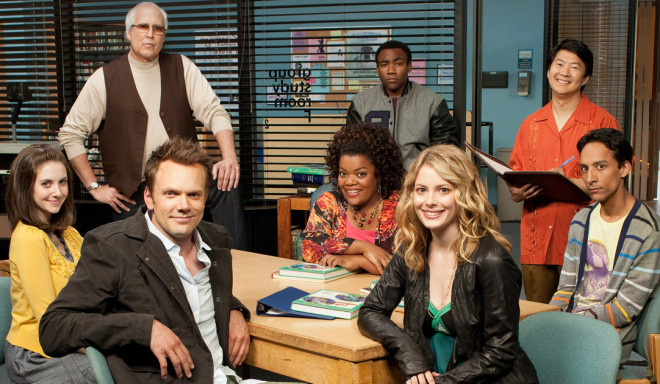 Fans of cult US sitcom Community have been fearing its cancellation for years and NBC has finally dropped the axe.
Dan Harmon's show never set ratings alight but had a small but dedicated following that kept the show alive for five seasons.
Following a muddled third season and numerous troubles behind the scenes, Harmon left the show. The result was a disastrous, awful fourth season which resulted in Harmon's return and a fifth season that brought Community back to the heights of seasons one and two.
Following news of its chop, rumours immediately started to circulate about Community being revived elsewhere – possibly on streaming sites like Hulu or Netflix.
Dan Harmon has cast those rumours into serious doubt however. Speaking on his podcast about the show's demise he spoke about moving on to future projects, including the continuation of his celebrated animation series Rick & Morty.
"We all know what happened yesterday, we all got drunk," said Harmon.
"I was in a place of grief... It'll take weeks to sink in. I was on my way to LAX and somebody from Sony called me.
"The fans of that show have more reason to be upset than I do," he admitted. "I can try to make another show and also I got paid for every minute I cared about that show. The people that are most devastated are people who put unpaid labour into the show.
"They didn't get compensated for it. They loved the show," he concluded ruefully.
It sounds final, but if Community's fans make enough noise there's always the chance that it could return in some form – possibly after a hiatus to build some anticipation.
Deadline reports that the fifth season was expected to be the show's last but troubles at NBC put plans for an "end-game" on hold, which may explain the slightly muddled ending we got. As the report reads: "I hear the producers felt this was probably Community's best season creatively, so the thought of going out strong has helped alleviate some of the sting from the cancellation."
Community focuses on a group of misfits studying at Greendale Community College. The show was beloved for its meta storytelling, its parodies and for not being afraid to go a little bit insane.