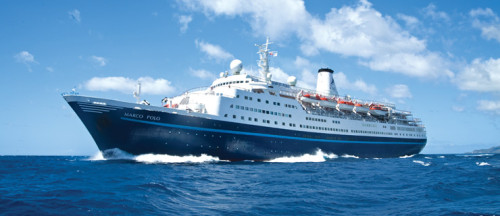 The wife of James Swinstead, 85, who died when a huge wave hit the Marco Polo cruise ship in the English Channel during the Valentine's Day storms, has criticised the condition of the vessel.
Helen Swinstead, who was returning to Tilbury with her husband after a 42-night cruise to the West Indies and Amazon, claims she pointed out the poor condition of the windows in the Waldorf restaurant where she and her husband were dining when the wave struck:
"I said to my husband - because my father used to make paint - 'that's going to leak' because there was a rusty puddle on the window sill. I think the ship is improperly maintained. It had come from Madeira before we got on it in January and they had bad storms then. There's so much paint on the outside you can't see the rust, they just slop some more on when they get to port."
Swinstead described the horrific moment the giant wave hit the 22,000-tonne ship: "It was quite dreadful. I was sitting next to him and this window came in and the sea with it. We were all very, very wet. I think a woman was taken to hospital and my husband was going to get on the helicopter but he died before they could get him on it."
Other passengers who disembarked from the Marco Polo at Tilbury also described the horrific scenes.
"It was horrendous," said Linda Kogan. "I've never been in storms like it. The waves were coming up almost over the ship. The ship was at an angle. Some people reported the drawers were falling apart and the wardrobe doors falling off.
"A lady was actually thrown out of bed with the force. One lady said it was just like the films with the foamy water and being swept across the restaurant. Some people were stunned but on the whole people were quite stoic. The crew were fantastic. Some of the crew were actually injured as well."
Although not commenting directly on Swinstead's comments, the boat's operators Cruise and Maritime Voyages said: "Our thoughts are very much with these passengers and their families during this difficult time."