A representative for Republic of the Congo's opposition leader, André Okombi Salissa, who now faces alleged trumped-up charges — after his parliamentary immunity was lifted by the National Assembly on 19 January — warned the politician was now in "a life-threatening, dangerous situation".
A former ally of President Denis Sassou Nguesso and a member of his government between 1997 and 2012, Okombi Salissa was set to overhaul the ruling party, Parti Congolais du Travail (PCT), before he fled into exile in France becoming a vociferous critic of Sassou Nguesso.
Following his dismissal from government, he became president of the Initiative pour la Democracy au Congo (IDC), a coalition of several opposition parties, and refused to recognise Sassou Nguesso's re-election in hotly contested polls in March 2016.
IBTimes UK spoke exclusively to Grégoire Gayino, spokesman for Okombi Salissa, who was a presidential candidate in the 2016 polls, about the removal of his parliamentary immunity.
"For us, it's a lack of respect of the law from the authorities because Okombi Salissa is a member of Parliament (representing Lekana) who has been elected, and therefore he cannot be arrested and detained in prison for more than 10 days," Gayino said over the phone.
Okombi Salissa was arrested on 10 January in the capital Brazzaville, where he had been in hiding since April, for allegedly detaining (stockpiling) arms and attempting to undermine the internal security of the state.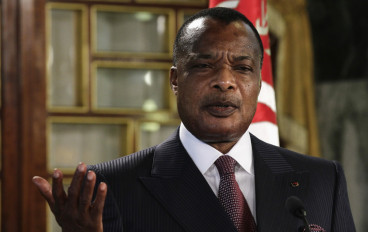 According to Gayino, Okombi Salissa has been handcuffed and languishing in a Brazzaville prison. The politician has also been denied visits from his lawyers while only allowed visits from his sister-in-law and sister who feeds him.
At the Brazzaville courthouse on 21 November 2016, Prosecutor André Gakala Oko presented weapons and ammunition allegedly seized from a small shed at the bottom of one of his wife's (Gisele Ngoma's) residences in the capital's northern district of Nkonbo.
"The arms Gakala Oko presented were weapons of war and are supposed to have been Okombi Salissa's, which is completely false. It's a montage. They are trying to find reasons to indict him," Gayino claimed. "The lifting of Okombi Salissa's parliamentary immunity means that he is in a life-threatening, dangerous situation. The charges against him do not even correspond to the allegations, because weapons were never found at his residence."
Gayino said the current "trumped-up" charges against the politician are only one of the many instances when Okombi Salissa faced what he described as "repression" against political opponents.
"It's not the first time, and there have been a whole range of reasons the regime is using to destroy the most popular and most respectable opposition leader, because he stood firm on his choice to not recognise the legitimacy of Mr Sassou Nguesso's authority. He became the man to bring down."
Gayino further alleges that the opposition allowed to speak up is one that Sassou Nguesso "created himself", while real opposition leaders are either "imprisoned, or disappear". "Every opponent, such as General Mokoko who also refused to recognise Sassou Nguesso's power, is sent to prison under the charge of threatening the state's internal security, or goes missing."
Jean-Marie Michel Mokoko — Congo's military chief between 1987 and 1993 — who came third during the March ballot, has faced several instances of questioning by the security services, after he was accused of compromising national security.