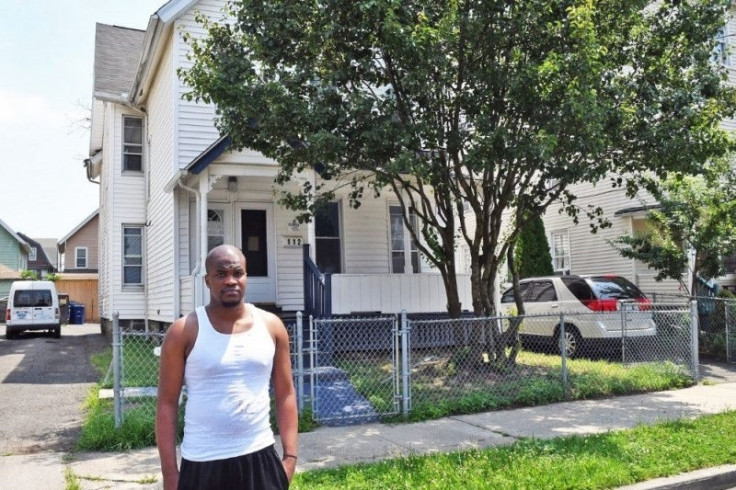 Aaron Tucker was fresh out of prison and heading to an interview for a job he badly needed but he had an even stronger need to help someone who had been in a car accident.
Tucker was taking the bus to the interview when he awoke from a brief nap and saw a car hit a tree before fliping over.
The bus driver refused to help those caught up in the crash, insisting he had to stick to his bus route and that he would not wait for Tucker if he got out to lend a hand.
Despite the prospect of missing out on his upcoming interview at Dinosaur Bar-B-Que, Tucker jumped off the bus and ran towards the accident.
The 32-year-old from Bridgeport, Connecticut kneeled down next to the toppled vehicle and saw the driver covered in blood.
"The guy had a lot of blood coming from his head," Tucker said.
As the vehicle began to catch on fire, Tucker unbuckled the victim's seatbelt and dragged him to safety. Several people, including three local auto body shop employees with a fire extinguisher, came over to help.
"You're going to be all right," Tucker assured the man. "Your family wants to see you. Keep your eyes open."
CBS News reported that he took off the dress shirt given to him at the halfway home he was living in and used it as a tourniquet to help stop the man's head from bleeding. Minutes later, emergency responders arrived.
"I had a grip on his arm to keep him calm as they put an oxygen mask on him," he said. "I just wanted to make sure he was all right, and that's what I did."
According to the Westport News, the man was take to Norwalk Hospital and is in a stable condition.
Tucker, meanwhile, missed his interview in order to stay with the man until an ambulance came, CBS News noted. "I feel like a job can come and go, but a life is one time thing," he said. "The job just wasn't in my mind at the time."
After Tucker's heroic actions made local news, members of the community set up a GoFundMe page, which has raised more than $53,000 (£40,000) in three days. Westport community activist Kami Evans made a Facebook appeal and and organised donation drives to collect clothes and non-perishable goods for Tucker and his one-year-old son.
Tucker also received an offer for a tailored suit for any future job interviews, which have rolled in following his story. He told CBS News that while he has not received any of the money raised, he is focused on getting a job to support his son and family.
"I got locked up three weeks before my son was born," he said. "When he was born, I got a phone call from the hospital. I heard my son crying in the background, and right then and there I was like, 'I'm changing my life.'"