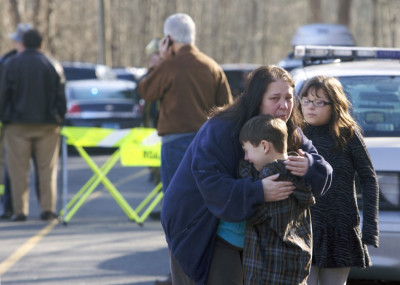 The tragic killings at Sandy Hook Elementary School that left 20 children dead have prompted a worldwide outpouring of sympathy from celebrities on Twitter.
Rihanna tweeted: "God have mercy!!!! No one deserves this! Praying for the families of the victims of the Connecticut shooting!! What a Christmas it will be."
@MileyCyrus tweeted: "Why does this happen? Why do bad things happen to such good people... Especially young ones. Sending blessings to CT."
@HilaryDuff tweeted: "Oh my.I am shocked.Heartbroken.Devastating news about this elementary school shooting. What is wrong w/ people?Praying hard 4 these family's."
@ChadMMurray tweeted: "Anger cant explain my feelings 4 guns & Evil ppl! Love 2 every1 in #Connecticut affected by this tragedy. My heart weeps 4 U... God bless."
@AshBenzo tweeted: "Love and prayers go out to all those affected in the shooting today. It's absolutely devastating. #PrayForNewton."
@lindsaylohan tweeted: "This is absolutely horrifying. Our thoughts and prayers go out to the families in Newton, CT. So unbelievably sad."
@JordinSparks tweeted: "Those precious children...I will never understand the evil in this world. On my knees praying for those families. I am in tears."
@iamrashidajones tweeted: "Gun control is our only road to freedom. Freedom from the fear of senselessly losing children. I'm so saddened. WE NEED LAWS NOW."
@katiecouric tweeted: "Shocked & saddened to hear this morning's news... My heart goes out to the families of #SandyHook Elementary children, faculty, staff."
@KateWalsh tweeted: "Horrible. My thoughts and prayers go out to the children in newton and their families."
@KeriHilson tweeted: "It's time to re-evaluate those gun laws you spoke about, @BarackObama. Prayers for surviving children & families in Newtown, Connecticut."-
@JaredLeto tweeted: "My heart + thoughts to the victims, their families, and all affected by the #Newtown school shooting. Absolutely horrifying and tragic."
@lucyhale tweeted: "Absolutely devastated by the Newton shooting. Praying so hard for the families & all involved. I'm at a loss and will never understand."
@Matt_Morrison tweeted: "My thoughts and prayers go out to all of the families in CT affected by today's tragedy. This news is truly heartbreaking. #PrayforNewtown."
@jessetyler tweeted: "I'm sick to my stomach about the tragedy at Sandy Hook Elementary. All my thoughts are with the community of Newtown, CT."
Meanwhile, in remembrance of the victims of this and other similar shooting sprees, IBTimes UK looks back at the violent gun crimes that have shaken the United States in 2012.
Click Start to begin the slideshow