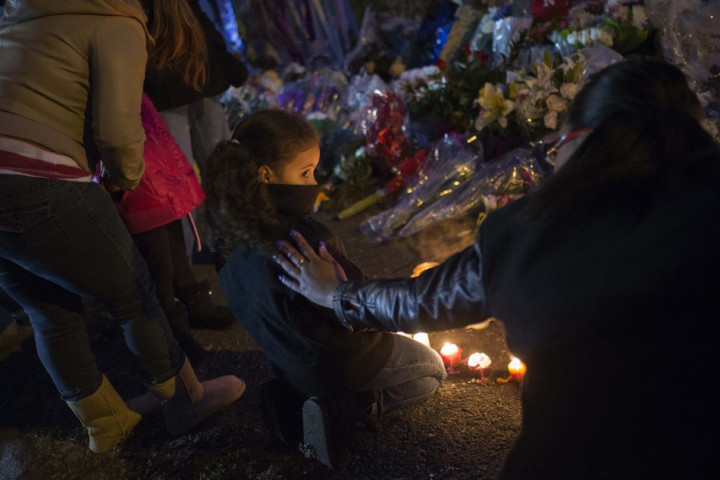 The names of all those who died in the Connecticut school massacre have been revealed by the authorities. Among the 26 people killed at the school were 12 boys and eight girls.
"They were first-graders," said Connecticut Chief Medical Examiner Dr H Wayne Carver II. The six- and seven year-old children were identified by their parents from pictures.
Carver described the nature of the victims' injuries as "the worst I have seen". The victims were shot repeatedly by a lone gunman.
The adults who died in the incident were aged between 27 and 56. The medical examiner said all the victims were shot with a rifle. The bodies of the shooter and his mother are yet to be examined.
Officials said the gunman, 20-year-old Adam Lanza, forced his way inside the school and went on a shooting spree. However, investigators have so far not officially identified Lanza as the shooter.
Police earlier said they had collected "some very good evidence" that could help establish the killer's motive.
"Our investigators at the crime scene ... did produce some very good evidence in this investigation that our investigators will be able to use in, hopefully, painting the complete picture as to how - and more importantly why - this occurred," said Lieutenant Paul Vance of the Connecticut State Police.
Lanza's mother Nancy Lanza is believed to have been an avid gun collector. She legally owned two handguns, a Sig Sauer and a Glock, models commonly used by the police, and a Bushmaster .223 M4 carbine. She is thought to have been killed with one of these weapons before the massacre began.
Adam Lanza is believed to have then used some of these weapons on his rampage at the school.
President Barack Obama will visit Newtown to address grieving parents and the community at a vigil planned for 7pm local time (00:00 GMT) on Sunday.
Below are the names of the victims who died at the school, as provided by the Connecticut police:
Children
Charlotte Bacon, age 6.
Daniel Barden, 7.
Olivia Engel, 6.
Josephine Gay, 7.
Ana M Marquez-Greene, 6.
Dylan Hockley, 6.
Madeleine F Hsu, 6.
Catherine V Hubbard, 6.
Chase Kowalski , 7.
Jesse Lewis, 6.
James Mattioli, 6.
Grace McDonnell, 7.
Emilie Parker, 6.
Jack Pinto, 6.
Noah Pozner, 6.
Caroline Previdi, 6.
Jessica Rekos, 6.
Avielle Richman, 6.
Benjamin Wheeler, 6.
Allison N Wyatt, 6.
Adults
Victoria Soto, 27.
Rachel Davino, 29.
Lauren Rousseau, 30.
Dawn Hochsprung, 47.
Anne Marie Murphy, 52.
Mary Sherlach, 56.