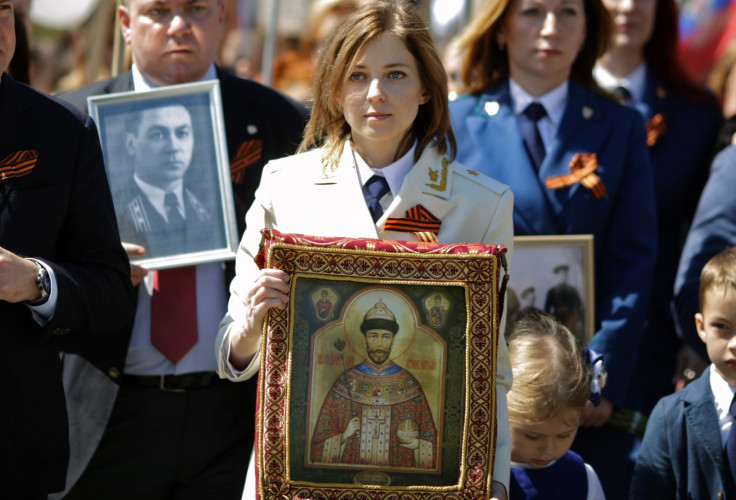 With seemingly no shortage of reverence in Russia for its current leader, an MP has got people talking about her saintly regard for one that ruled a century ago.
Natalya Poklonskaya, who is part of Vladimir Putin's ruling United Russia party sparked feverish reaction when she said in a television interview that a statue of the last emperor, Nicholas the second, had started crying on the 100th anniversary of the February revolution that ousted him.
She told the station Tsargrad that people were bringing their sick children to the bust to take advantage of its healing powers.
The bust, erected last October, was the initiative of Poklonskaya, 36, who is Crimea's former chief prosecutor.
"The bust of Nicholas II we erected in a square next to a chapel began to weep," she said.
"This is a miracle that no scientists or anyone can explain. The sovereign is helping us. They (the royal family) died so as to make Russia great. And we should do that."
The tsar and his family were executed in March 1917 in Yekaterinburg. In 2000, they were canonised by the Russian Orthodox Church in a move deemed by some as controversial as Nicholas had abdicated the throne and had close links to the monk Rasputin.
While no one has suggested that Nicholas's tears were in response to the state of the country, some politicians and bloggers have been quick to doubt the claims.
Former MP Nikolai Travkin said the statue could help the annexed Ukrainian territory's healthcare system, when he joked: "The emperor's bust is not just weeping, it's healing! Apply your painful spot to him and take it away healthy again."
The Times reported that the Church despatched a team to investigate the bust but were unable to find any evidence of moisture. Journalists who went to the scene also found there was no rising damp on Nicholas.
There is a group of Orthodox believers who say that Nicholas sacrificed himself to atone for Russia's sins, although the church dismisses this as heresy, the Moscow Times reported.
Bishop Pankraty, head of the commission on canonisation of the Russian Orthodox Church, said. "We should follow the wise advice of the Apostolic Fathers: do not accept, but do not deny."