Far-right Italian party Northern League has signed a co-operation agreement with United Russia, the political group led by Russian president Vladimir Putin.
Northern League party leader and MEP Matteo Salvini met with Duma Deputy Speaker Sergei Zheleznyak and Russian foreign minister Sergei Lavrov in a visit to Moscow. He hailed the "historical deal" in a post published on social media on 6 March.
Matteo Salvini's spokesperson Iva Garibaldi told IBTimes UK that the interest in working with a Russian party derives from a "long-standing friendship" between the parties, who see eye-to-eye on a number of issues. The Eurosceptic and anti-immigration party has a history of courting Russia's friendship. In 2014, a Northern League lawmaker spearheaded the initiative of setting up a parliamentary group called "Friends of Putin".
The practical implications of the agreement between the two parties remain vague. "Nothing happens in practice, but it is the first time that we sign a deal that see our movements ready to co-operate on issues regarding immigration and foreign policy, such as the fight against terrorism. We are two parties who are starting to work together more closely on the basis of a shared programme," Garibaldi said.
She denied that resources, including money, would be exchanged between the parties as a consequence of the deal. "Where do you get this idea from?" she said, laughing off the question.
Rumours of Russia funding far-right parties in Europe, such as Germany's Alternative fuer Deutschland (AfD) have been swirling for the past few years. In January 2016, the American Congress ordered an investigation into Russian funding of foreign political parties and non-governmental organisations since 2006. The report, if any was submitted, was never made public.
In his post, Salvini wrote: "Historical deal this morning in Moscow between Northern League and Putin's United Russia, represented by Sergei Zheleznyak. The fight against illegal immigration and peace in Libya, the fight against Islamic terrorism and the end of sanctions against Russia, that cost Italy €5bn and thousands of job losses. After Renzi's blabber, the Northern League delivers".
Salvini over-estimated the value of the loss of trade to Russia as a consequence of the sanctions, imposed in 2014 following the annexation of the Crimean peninsula from Ukraine. As reported in the Italian newspaper La Repubblica, the loss of exports is recorded at €3.6bn in 2016 in comparison to 2013, the pre-sanctions era, to which contributed the devaluation of the Russian currency, as a weaker rouble makes Italian imports more expensive and thus less appealing.
Zheleznyak, who is pictured with Salvini, is one of the Russian officials in the sanctions list in both the United States and the European Union. As such, Zheleznyak's assets are frozen and he is barred from travelling to the US and the EU, an inconvenience considering two of his daughters live in London.
While Salvini's post does not mention the European Union, he told the party's affiliated news website Il Populista (meaning "the populist" in Italian), that he raised the issue in his meeting with Russia's foreign minister. "I talked to Lavrov about Northern League's ideas and proposals for govern Italy and to change Europe. In particular, the Minister shared the analysis over the excessive centralisation of power in Brussels," Salvini said. His spokesperson added that the foreign minister "did not express judgements about Europe due to his institutional role and discreteness."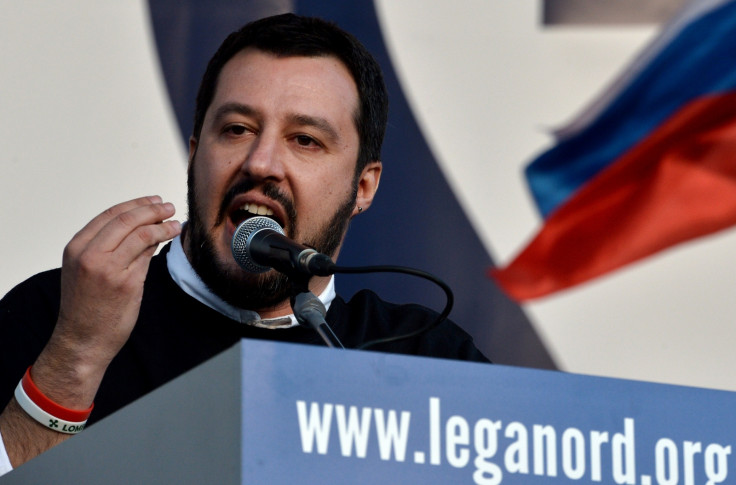 Garibaldi dismissed any concerns regarding Russia's meddling in US and European elections. "We have always been sceptical over the accusations [levelled] against Russia, not because we know something others don't, but simply because before launching these accusations you have to be sure about what you are saying," she said, adding: "we don't think these allegations will ever be confirmed".
The Northern League, along with the other main opposition party Five Star Movement, has been calling for new elections since former Prime Minister Matteo Renzi stepped down following his defeat in a constitutional referendum. Current Prime Minister Paolo Gentiloni recently ruled out the possibility of early elections, vowing to finish his term in 2018, as scheduled.