India Prime Minister Narendra Modi has called on developed nations to do more to help developing countries in their transition towards renewable energy sources. Speaking at the COP21 conference in Paris on 30 November, Modi said solar technology was the key to cutting down global carbon emissions and curbing climate change.
He unveiled a "Solar Alliance" of 110 tropical countries for the purpose of obtaining solar technology cheaply from advanced countries such as the US and Japan.
"The Sun god is the soul of all beings. Many in India begin their day with a prayer to the Sun," Modi was quoted as saying at a press conference in the French capital by the Irish Times newspaper. "The world must turn to the Sun to power the future."
India is the world's third largest carbon emitting nation after China and the US, but its emissions are well below the global average on a per capita basis. Unlike China, India has not committed to a peak emissions target, and has instead pledged to cut down the rate at which it emits greenhouse gases by a third over the next 15 years.
Scientists say there is a danger of irreversible and catastrophic climate change if global carbon emissions do not peak soon.
'Unlimited opportunities'
Modi said India will spend $30m (£19.9m; €28.4m) to establish a secretariat for the alliance of tropical countries in the city of Gurgaon, near the capital Delhi. "If you put clean energy within the reach of all, it will create unlimited economic opportunities. This day is the sunrise of new hope for villages and homes still in darkness," the Indian PM was quoted as saying.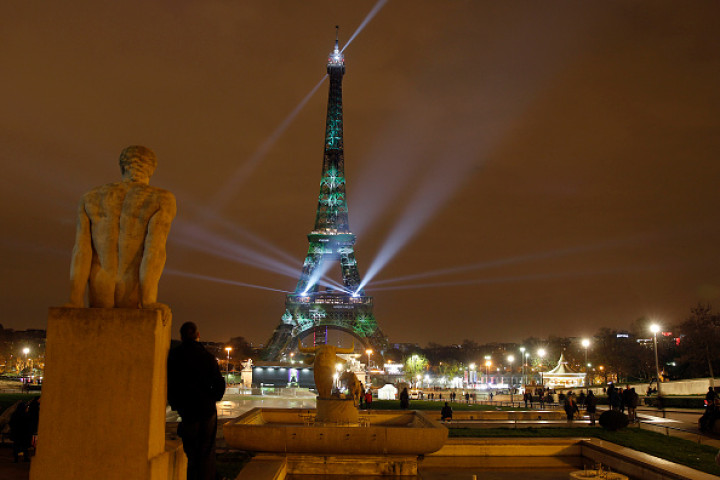 However, the ambitious plan is unlikely to help bridge the yawning development deficit in a country where more than 300 million people have no access to electricity. India's government has announced plans to double its coal output by 2020 to meet its growing energy needs. It has set a target of providing electricity to all households by 2022.
Earlier, Modi called on developed nations to do their fair share of emissions cuts in his formal address to the summit. "We hope advanced nations will assume ambitious targets and pursue them sincerely," the Wall Street Journal quoted him as saying.
"It is not just a question of historical responsibility. They also have the most room to make the cuts and make the strongest impact. And, climate justice demands that, with the little carbon space we still have, developing countries should have enough room to grow."
Coal power plants are the biggest source of carbon emissions in India. Despite booming economic growth in recent years, the country has around 25% of its population living below the World Bank's international poverty line of $1.25 per day. The south Asian nation has in the past called for developed countries to shoulder greater responsibility for cutting down global emissions.
Read IBTimes UK's full coverage of the COP21 climate change talks.