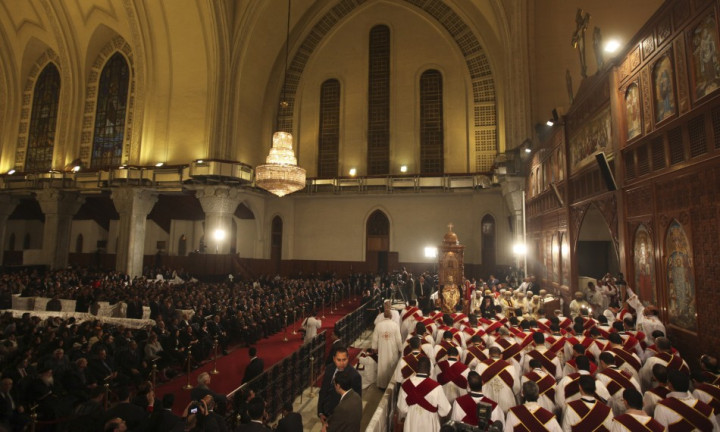 Egypt's Coptic Christians will discover the identity of their new pope on Sunday when a blindfolded altar boy picks the name of one of three candidates from a transparent box.
The three shortlisted candidates are: Bishop Rafael, 54, a medical doctor and the present assistant bishop for central Cairo; Bishop Tawadros, 60, of Beheira in Giza; and Father Rafael Ava Mina, 70, from the St Marina Monastery, the oldest of the five original candidates.
They were selected through an earlier ballot by Coptic priests and dignitaries, including 2,500 public officials, MPs, journalists and local councillors.
The child to be blindfolded for the ceremony will be selected by the interim head of the Church, Father Pachomius, from among 12 altar boys aged from five to eight already chosen for the purpose.
The transparent box will contain three identically folded pieces of paper, each with a name written on it. It will be placed at the altar of St Mark's Cathedral in Cairo. The blindfolded boy, who is believed be guided by God, will draw one piece of paper from the box.
The chosen pope will formally ascend the throne at a ceremony to be held on 18 November.
The successor to Pope Shenouda III, who died in March aged 88, will be the 118th Coptic pope, continuing a line that dates back to the introduction of the faith in Egypt. Pope Shenouda was the head of Coptic Christians for four decades.
The eight million Copts in Egypt will look to the new pope to make their community heard in the Muslim majority nation. However, activists are not expecting any radical change in the political role of the new leader in the new democratically elected Egyptian government.