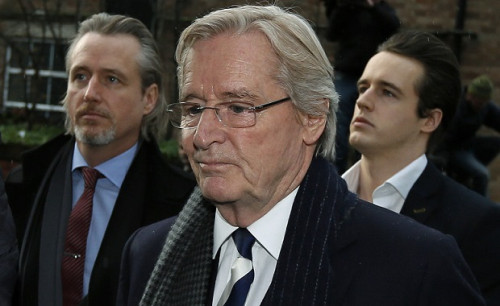 Coronation Street actor Bill Roache assaulted a 14-year-old girl in the men's toilets of Granada studios then sent her a signed photo of himself, a court has heard.
Roache, who has played the part of Ken Barlow in the popular ITV soap for more than 50 years, sent the teenage girl the autograph as a "sort of grooming" process to secure her loyalty and silence, Preston Crown Court was told.
Roache, 81, is accused of five counts of indecent assault and two counts of rape involving five girls aged between 11 or 12 and 16 between 1965 and 1971.
Opening for the prosecution, Anne Whyte QC told the jury that they should not take into account the amount of time that had passed since the alleged offences. She said: "If you think a victim of crime has lost the opportunity to complain because he or she did not complain at the time, think again.
"A crime is a crime however dated. It doesn't make them liars or attention seekers. In due course I shall be asking you to accept that it makes them human."
She added that the jurors had to ask themselves if they thought that all the alleged victims were "manipulative fantasists, riding on the coat tails of the post-Savile crisis of conscience" bearing in mind that all their complaints were from the same period.
The court heard that one of Roache's alleged victims was indecently assaulted him in 1965 on a visit to Granada studios when she was just 14.
The woman, now aged 63, said she went to the central Manchester studios with a friend to take part in a talent show and recognised Roache, Moore said.
The alleged victim said she was "flattered" by the attention she received from the defendant after she and her friend were invited back to his dressing room with other actors.
She said that Roache took her into the men's toilets where he forced her to perform a sexual act on him.
Afterwards, Roache sent her a letter and a signed photograph of himself. Moore told the jury that this was nothing more than a deliberate act to "impress a young schoolgirl and to secure her unquestioning loyalty as a fan for a sexual purpose".
"A sort of grooming, as we would nowadays call it", she added.
Roache is also accused of raping a girl twice at two of his properties in Haslingden, Lancashire, in 1967, and of assaulting two sisters who used to sit on the steps outside Granada Studios.
Roache, who holds the Guinness World Record for being the longest-serving television actor in a continuous role, denies all charges.
ITV said that Roache would not be appearing in Coronation Street until legal proceedings concluded.
The trial continues.