A number of top corporate leaders, including the chiefs of Samsung and Lotte Groups, were questioned on Tuesday, 6 December, over the political scandal involving President Park Geun-hye. The chiefs were interrogated in a unique parliamentary hearing on the political controversy that has initiated the impeachment of Park.
The corporate heads were called to find out whether the conglomerates, also known as chaebol, were pressured by Park or a friend to give money to two non-profit organisations supporting her policies in exchange for special treatment.
However, Samsung Group leader Jay Y Lee denied any such accusation and said the president had asked for his help in boosting cultural and sports-related developments but did not specifically request money.
"There are often requests from various parts of society including for culture and sports. We have never contributed seeking quid pro quo. This case was the same," Lee said, and added that he was embarrassed to be called upon like this and was appearing with a "heavy heart."
Samsung had reportedly donated around 20.4bn won ($17.46m) to the two foundations backed by Park, which were raided by prosecutors in November.
The presence of the corporate tycoons in the National Assembly sparked anger from the media and protesters as they demanded their arrest, holding placards that read: "Arrest the chaebol chiefs".
Middle school students also chanted "Park Geun-hye step down!" as the leaders arrived for questioning, marking the first time in the country's history when such a large group of major business chiefs appeared for a parliamentary hearing.
However, none of the chaebol, which are among 53 business groups that donated money to the foundations, has been accused of any wrongdoing in the case.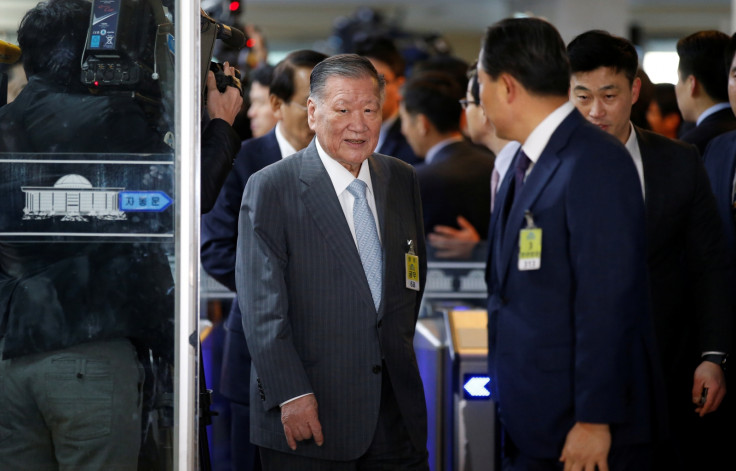 According to a lawmaker's office, each witness was allowed to bring one lawyer and one company official to the hearing. The chiefs were also allowed to bring an aide for medical support, if needed.