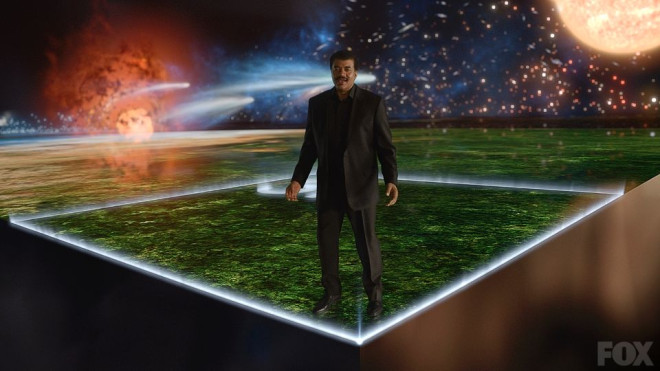 Cosmos: A Spacetime Odyssey, hosted by Neil deGrasse Tyson, premiers Sunday night on FOX Networks and the National Geographic.
Embrace the spirit of discovery and set sail on a voyage discovering the unimaginable possibilities of the universe starting tonight with the launch of Cosmos: A Spacetime Odyssey.
A reboot of Carl Sagan's classic Cosmos: A Personal Voyage from 1980, the new science docu-series will be introduced by none other than US President Barack Obama.
The 13-part series will reflect the changes in science and technology that happened over the last 34 years since the first Cosmo series aired.
Cosmos is touted as a different show on prime-time television as it unfolds unique scientific mysteries of the universe.
The show will have its biggest premier on Sunday as it will be aired in 171 countries including the US and the UK.
The highly-anticipated show will guide the viewers through some splendid wonders of the Universe by combining CGI fiction and science.
"The goal is to convey why science matters to the person, to our society, to us as shepherds of this planet. It involves presenting science in ways that connect to you, so Cosmos can influence you not only intellectually but emotionally, with a celebration of wonder and awe," astrophysicist Tyson told USA Today.
Cosmos is produced by Family Guy creator Seth MacFarlane and Sagan's widow, Ann Druyan.
During a webcast for the latest Cosmos series Druyan said: "Carl made it possible for everyone to feel goose bumps about the grandeur, beauty and romance of life in the cosmos."
"There are many surprises in the new show, and we're going places that Carl and I in the original series never got to go," she added.
Druyan was the co-writer on the 1980 Cosmos series and is playing the same role again in the new series.
When to Watch
The March 9 premiere of Cosmos: A Spacetime Odyssey is simultaneously aired from 9:00-to 10:00 PM ET/PT (1:00 AM-2:00 AM GMT, 10 March) on Fox channel and US Fox networks including National Geographic, Fox Sports 1, Fox Sports 2, Fox Life, FX, FXX, FXM, National Geographic Wild and National Geographic Mundo.
After the cross-network premiere event, Cosmos: A Spacetime Odyssey will continue its epic 13-episode run, Following this, Cosmos: A Spacetime Odyssey will be aired on Sundays from 9:00-10:00 PM ET/PT on FOX while it will be shown on Mondays from 10:00-11:00 PM ET/PT) on National Geographic Channel.