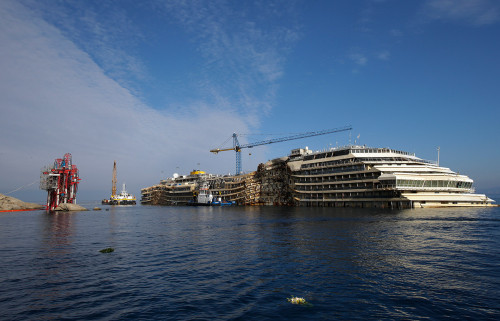 The captain of the cruise liner that ran aground off an Italian island two years ago has sent his condolences to the families of the victims of the shipwreck.
A moment of silence was observed at the trial against Captain Francesco Schettino of the Costa Concordia in memory of the 32 people killed when the ship capsized in January 2012.
"I express my deepest condolences and renew my closeness to relatives of the victims," Schettino, who was not in court, said in a statement to Ansa news agency.
"I share the commemorative silence in court that renews an indelible grief to us all."
The trial was adjourned because of a lawyers' strike. Schettino, who is the sole defendant, faces up to 20 years in jail on charges of manslaughter, causing a shipwreck and abandoning ship.
"I'll never get on a ship again," said Mandy Rodford, who was on the Concordia when it hit a reef and capsized off Giglio on the Tuscan coast.
Her husband John, who was also aboard that night, said he would join survivors in a candlelit march on the island but that his wife would not go because she no longer had the confidence to take the ferry across to Giglio.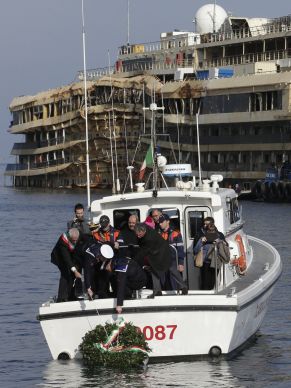 On the island, relatives of the victims threw a wreath into the sea and attended a Mass in memory of the dead.
"I am here for my sister," said Madeleine Soria Molina of Peru, whose sister Erika Molina was among the crew members killed. "It is a way to be with her again, because the death of a member of your family — of a brother or sister — it is hard to get over it."
The wreck of the ocean liner was set upright in an unprecedented salvage operation last year.
Italian authorities said it will be moved to a port for dismantling in June.
"[This anniversary] is something that takes us back to that terrible night, even if today we are looking at this anniversary with a light that is a little bit different," Giglio mayor Sergio Ortelli said.
"Today we are looking forward optimistically to what will be the final operation."