A global ban on nuclear weapons is not "realistic" as countries like North Korea are highly unlikely to ever agree to such a plan, US Ambassador to the United Nations Nikki Haley said on Monday (27 March).
She said that 40 countries, including the US, the UK and France are not participating in UN-led negotiations on a complete nuclear ban that commenced on Monday (27 March) in the New York.
"There is nothing I want more for my family than a world with no nuclear weapons. But we have to be realistic. Is there anyone that believes that North Korea would agree to a ban on nuclear weapons?" Haley told reporters before the UN was to start talks on the treaty.
Soon after her comments, North Korea – which has made its nuclear ambitions clear – conducted a fresh rocket engine test. The reclusive nation, led by Kim Jong-un, test-fired multiple ballistic missiles twice in March, one of which ended in failure.
The UN General Assembly had adopted a resolution in December 2016 to "negotiate a legally binding instrument to prohibit nuclear weapons, leading towards their total elimination". The global body had then urged all of its member states to participate in the talks and work towards a nuclear-free world. Around 113 countries had voted in favour of the resolution while 35 voted against it and 13 remained absent.
Ahead of the talks on Monday, Haley said: "You are going to see almost 40 countries that are not in the General Assembly today. In this day and time we can't honestly that say we can protect our people by allowing the bad actors to have them and those of us that are good, trying to keep peace and safety, not to have them."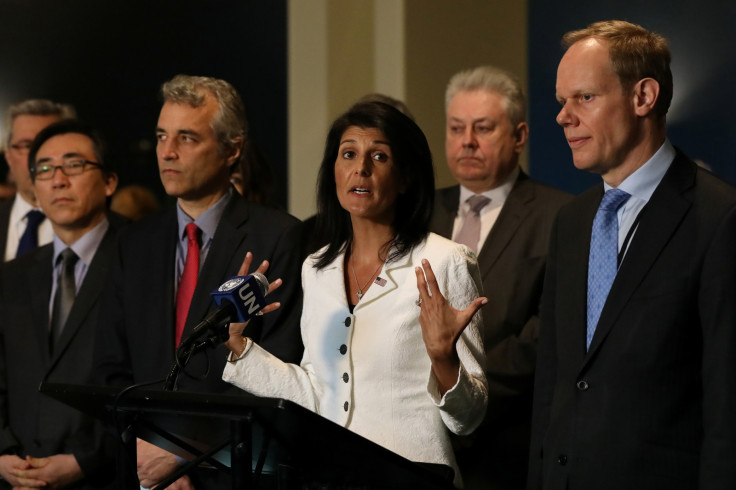 The US envoy pointed out that all of the countries abstaining from UN talks are already committed to the Non-proliferation Treaty (NPT) that came into effect in 1970. These countries are working towards reducing nuclear arsenals and the spread of nuclear weapons technology throughout the globe, Reuters reported.
UK ambassador Matthew Rycroft said that his country is not participating in the talks "because we do not believe that those negotiations will lead to effective progress on global nuclear disarmament".
Deputy French UN ambassador Alexis Lamek said: "In the current perilous context, considering in particular the proliferation of weapons of mass destruction and their means of delivery, our countries continue to rely on nuclear deterrence for security and stability."
Following the withdrawal of the 40 countries from talks, Beatrice Fihn, executive director of the International Campaign to Abolish Nuclear Weapons, said in a statement: "It is disappointing to see some countries with strong humanitarian records standing with a government which threatens a new arms race."