US and Canadian diplomats in Cuba who fell seriously ill due to a suspected covert sonic device have reportedly been diagnosed with mild traumatic brain injury and damage to their central nervous system.
The diplomats' deterioration in health is much more severe than first thought, with medical records obtained by CBS News showing they also suffer hearing loss, nausea, headaches and balance issues.
A source speaking to CBS also revealed that reports of further attacks affecting US embassy staff in Havana continue, and that they have been subjected to other types of harassment, including vandalised vehicles, constant surveillance, and home break-ins.
In a story straight from the pages of a Cold War spy novel, the deterioration in health of the diplomats comes after a bizarre series of events in the autumn of last year when US staff stationed at a newly reopened embassy in Havana first complained of feeling unwell.
Their mysterious symptoms were said to be like those of a concussion, which can include vomiting, dizziness, confusion, memory loss and ringing in the ears. Some of the diplomats fell so ill they were forced to cancel their tours early and return to their home country.
Suspecting foul play, US investigators from agencies including the FBI began work trying to find the source. After several months they concluded that diplomats had been exposed to an advanced device that emitted sound beyond the acoustic range audible to humans. Investigators believe it was deployed either inside or outside their residences.
It was not immediately clear if the device was a weapon used in a deliberate espionage attack on diplomats or had some other purpose. While the US has not directly accused Cuba of involvement, the US retaliated by expelling two Cuban diplomats from their embassy in Washington on 23 May.
It's a move that suggests the US believes Cuba has at best been negligent in its duty to protect foreign diplomats on its soil. Investigators are probing whether a third country may have been involved.
The State Department has not confirmed the number of embassy staff affected but a source speaking on condition on anonymity told Associated Press about five US diplomats had been unwell.
The Cuban government said in a lengthy statement on 9 August that "Cuba has never permitted, nor will permit, that Cuban territory be used for any action against accredited diplomatic officials or their families, with no exception."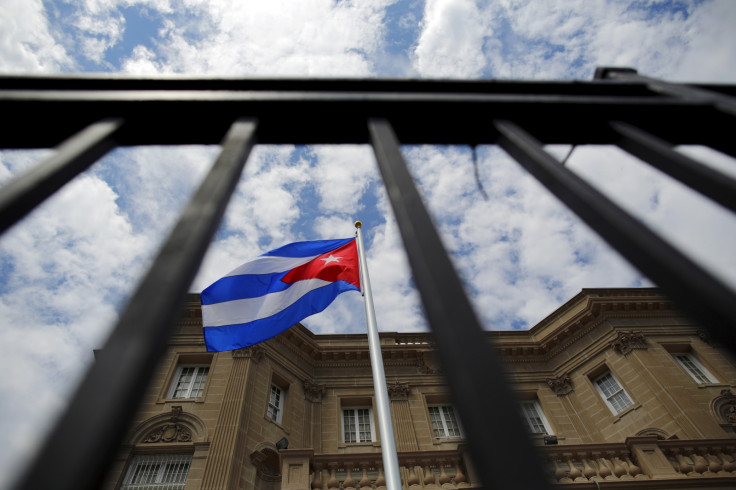 The statement from the Cuban Foreign Ministry said it had been informed of the incidents on 17 February and had launched an "exhaustive, high-priority, urgent investigation at the behest of the highest level of the Cuban government."
It said the decision to expel two Cuban diplomats was "unjustified and baseless".
The incident comes after a thaw in US-Cuba relations under President Barack Obama, which saw official diplomatic channels resume in 2015. It followed decades of tensions between the two countries, with the CIA involved in numerous outlandish assassination plots against former Communist leader Fidel Castro.
This included plots to kill Castro with poisoned cigars, exploding seashells, and a James Bond-style poisoned pen. The use of acoustic devices against diplomats is thought to be unprecedented, however. Even so, weaponised sound waves go beyond science fiction.
US military and private companies have researched and developed the use of sonic weapons to incapacitate, injure, or even kill targets.
In 2009, police in Pittsburgh used a Long Range Acoustic Device (LRAD) to emit high-pitched, pain-inducing sounds at crowds protesting during the G20 Summit. It led to the city paying out more than $200,000 in settlements, with one bystander suffering permanent hearing loss.
In a weapon that mimics the sound gun used by Tom Cruise in Hollywood blockbuster Minority Report, a US company says it has also developed "sonic bullets" that can stop people in their tracks with an intense beam up to 145 decibels – 50 times the human threshold of pain.
"[For] most people even if they plug their ears, it will produce the equivalent of an instant migraine. Some people, it will knock them on their knees," LRAD founder Woody Norris told ABC News while explaining the device.