Manchester United manager Sir Alex Ferguson has downplayed a return to Old Trafford for Cristiano Ronaldo, labelling the Real Madrid winger as 'unbuyable'.
Ronaldo won three Premier League titles, one FA Cup, the Champions League and the World Club Cup during his six year spell at United, winning the Fifa Ballon d'Or award in 2008.
While Ferguson has downplayed a potential return to United for Ronaldo, claiming the 27 year old is 'unbuyable' in the current market, he does ranked the Portuguese winger among the raft of great players to have applied their trade at the club.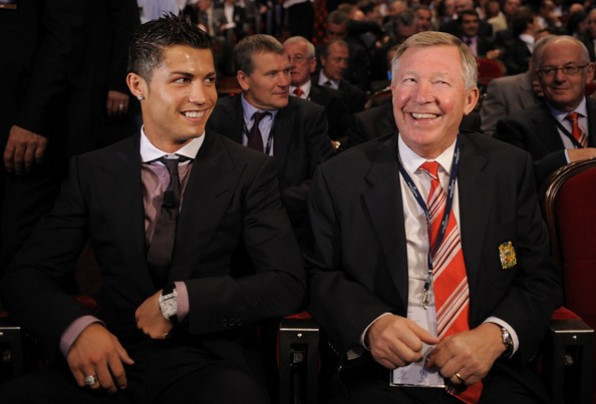 "I don't think it will happen but I would like to think it would," Ferguson said on re-signing Ronaldo.
"You're talking about incredible amounts of money now. What would his value be? He's a fit boy, he's never injured and he never misses a game.
"There's every chance he might leave, you never know. He's definitely unbuyable. Who could afford him? One of the Russian teams could buy him but do you think he'd want to go to Russia?"
"He was ­definitely good value for ­Madrid, but he ­always wanted to play for them. It was his boyhood dream. I'm not saying he'll stay there forever, you never know. How do you know we've not got a buy-back clause for him?"
"He's an ­unbelievable player - one of the best. We have a pantheon of great ­players and Ronaldo definitely compares with any of them."
After his £80m move to Madrid from United, Ronaldo has made a rapid improvement, becoming the second fastest played to 100 La Liga goals last season and the first player to score 40 goals in a Spanish League season in the 2010/11 campaign.
During his spell at United, Ronaldo's effort in helping the club to their third European Cup triumph sees him ranked among the club's greatest ever players of the modern era.
And Ferguson says that is was Ronaldo's work after training, in similar fashion to that of Eric Cantona and Paul Scholes, which now sees him as a class apart in Europe.
"Although he had a natural talent, he in many ways ­manufactured himself," Ferguson added.
"He practised and ­practised. He had a bit of the Eric Cantona about him in that way. Paul Scholes is still the same. You build up a mechanism and it becomes a habit. That was Cristiano's habit, to do something after ­training.
"If there was anything about him that you might call a handicap it was the fact that he liked to look at ­himself in the mirror a wee bit. The players used to give him stick for that!
"But he was a good lad and great for us. I still speak to him quite regularly. He's always available, ­always wishing us well. We'll be the first team and result he looks for."