Five foreigners, including a French and a German, have been arrested by Turkish forces on the road connecting Istanbul to Edirne after a march of hundreds of refugees trying to reach Europe overland has been blocked by authorities.
The five have been accused of "aiding and abetting refugees" against Turkish police in their bid to reach Edirne, which is located just six miles from the Greek border and 12 miles from Bulgaria. Among them is French-born Charlotte Lekay, a language teacher and activist, who was involved in the Crossing No More movement and Facebook page.
Tired of people drowning at sea and being stopped and abused by authorities, the Crossing No More group decided to gather in Edirne and press authorities to let them cross into Europe by land. However, thousands who joined the group were stuck in and around Edirne and prevented by Turkish authorities from making the crossing. There, hundreds of mostly Syrian migrants have engaged in a roadside standoff with riot police for days, before abandoning their makeshift camp and leaving the area.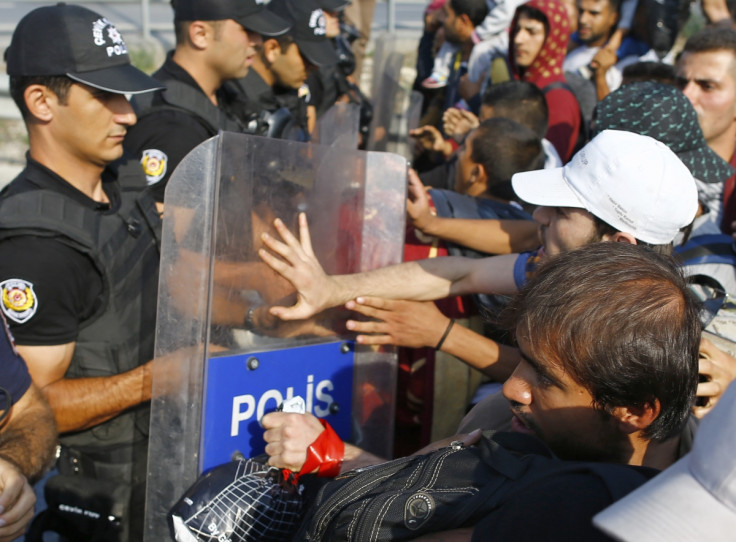 They have been demanding to be allowed free travel to Europe but their appeal was met with violence by riot police, which used batons to repel a group of people chanting "open the door" while trying to break through the lines.
Hundreds more were stranded in Istanbul bus station after companies refused to issue them tickets for the 250km-long trip. The group then decided to set afoot and march to Edirne to join the larger group of 1,500 migrants inside the city and walk to the border according to the original plan.
After three hours of walking along the emergency lane, they were stopped by Turkish police, pushed on buses and sent to a stadium in the city centre of Edirne where they were all detained. Around 200 migrants refused to get on the buses and demanded to be allowed to cross the border with Greece. After negotiations with police, they were moved by police to Edirne and joined other groups.