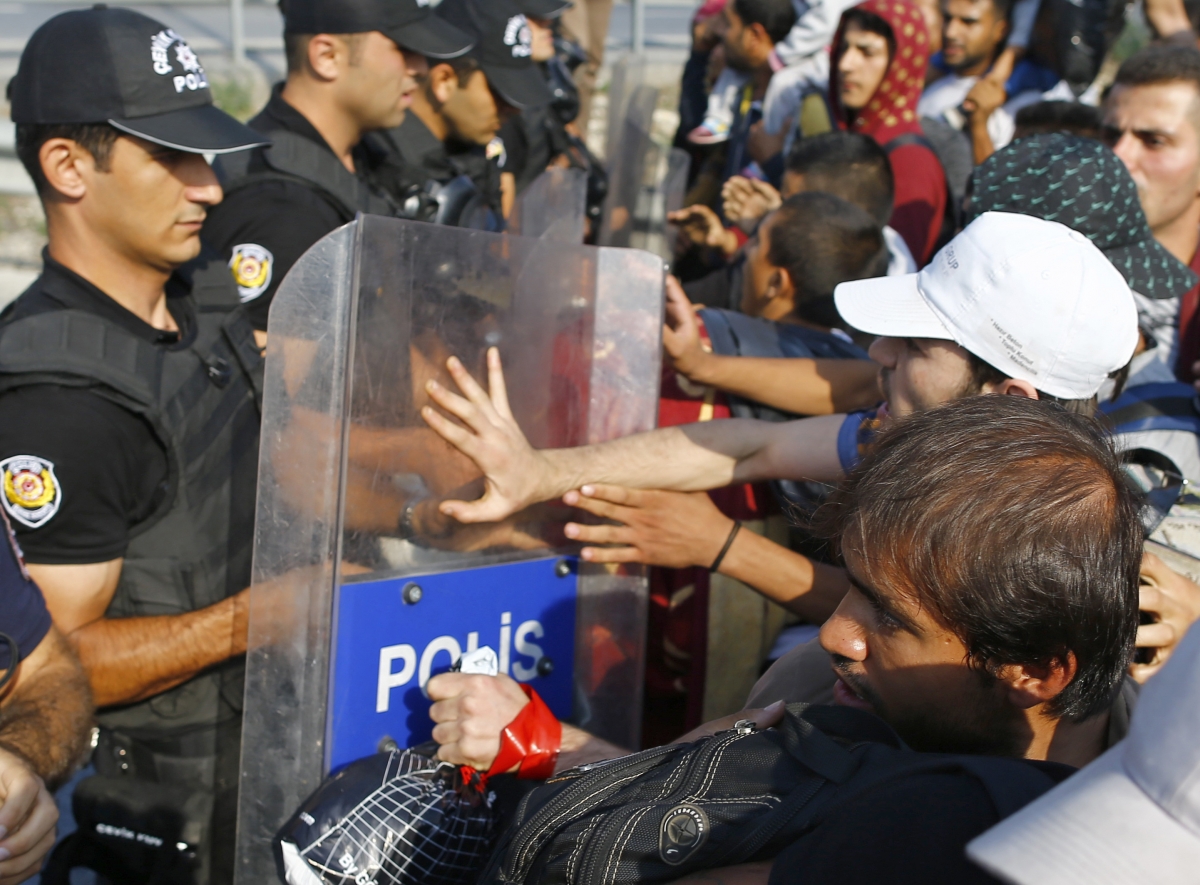 Turkish police have blocked hundreds of refugees, mostly Syrians, who were trying to reach Europe overland from Turkey outside Istanbul. The group, which has been stuck for the past week at Istanbul's main bus station, started to march towards the north-western city of Edirne, which is 250km (150 miles) away.
A handful of refugees, with bags over their shoulders, managed to clamber aboard buses or private vehicles. But the majority continued to walk along the emergency lane before being stopped by Turkish police some 50km (31 miles) from Istanbul, according to AFP.
Edirne, located just six miles from the Greek border and 12 miles from the Bulgarian frontier, has become the new crosspoint for desperate migrants trying to reach Europe. There, hundreds of mostly Syrian migrants have engaged in a roadside standoff with riot police for days, before abandoning their makeshift camp and leave the area.
They have been demanding to be allowed free travel to Europe, but their appeal was met with violence by riot police, which used batons to repel a group of people chanting "open the door" while trying to break through the lines.
Meanwhile, the #Crossingnomore and #marchofhope media campaigns have called for refugees to be allowed to travel overland to Europe rather than to risk lives at sea. On 20 September, a press release by the Crossing No More Facebook page denounced the police eviction from the roadside camps. The 500-strong group split in two: some joined a larger group of 1,500 migrants inside Edirne, while others were returned to Istanbul.
Turkey Prime Minister Ahmet Davutoglu had appealed to the refugees to end their protest by 21 September. "The voices of our Syrian brothers have been heard by the entire world. They must now return to a normal life," he wrote. "We are ready to send people to countries who open their doors to them, but unfortunately no country has given a favourable response so far."
Edirne's governor has warned that any refugee trying to smuggle their way into Europe will be returned to refugee camps in southern Turkey.