Mayor of London Sadiq Khan says he is "extremely concerned" about video footage which appears to show a tram driver asleep at the controls on the same track where seven people died in a derailment on 9 November. The footage was filmed by a passenger in April 2016 and the driver, who has not been identified, is not the one involved in the derailment.
In the 33-second clip, published by The Sun, a driver is recorded with his eyes closed as the tram hurtles down the track. Passengers can be heard expressing their concern as he struggles to remain upright and the tram approaches the next stop, New Addington, about three miles from the scene of the accident on 9 November.
According to The Sun, the tram, carrying around 50 passengers during the rush hour, reached speeds of 40mph (64kph) with the driver apparently sleeping at the controls.
The tram which crashed seven months later was doing roughly the same speed in a 12mph zone according to a preliminary report by the Rail Accident Investigation Branch (RAIB) on 16 November.
The passenger who recorded the clip of the sleeping driver told The Sun: "It was the most surreal thing because the tram is zooming along and the driver seems to be falling asleep. It seemed like he had perfected the art and knew when the next stop was approaching to wake up.
"He reminded me of someone who dozes off in a meeting – except if you doze off in a meeting you are not killing anyone. If you are in charge of 50 plus lives and you're that exhausted it's a dangerous thing."
Khan said: "I am extremely concerned by this video. People will understandably be very worried. It is important that First Group, who operate the trams, and TfL urgently and fully investigate this. I will make sure any necessary action is taken, and that all steps are taken to make sure these trams are as safe as possible."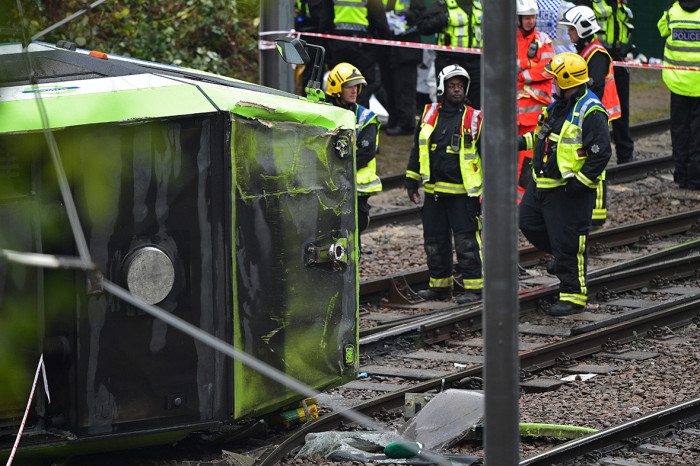 Transport for London has referred the incident to First Group. The BBC quoted the company as saying: "If the situation is as it appears then this is completely unacceptable and appropriate action will be taken."