Cuban and US authorities are meeting in Havana for new high-level talks on the restoration of diplomatic ties between the long-time adversaries, amid growing opposition about the situation in Venezuela.
In the wake of the two rounds of discussions already held in January and February in Havana and Washington, Roberta Jacobson, US assistant secretary of state for western hemisphere affairs, will meet Josefina Vidal, in charge of the US department at the Cuban Foreign Affairs on Monday (16 March).
"The parties are in communication since their last meeting in February in Washington," the State Department said in a statement.
It lifted the veil on the content of discussions, adding: "Restoring diplomatic relations and reopening embassies is in the interest of both countries."
Since the 17 December historic announcement of rapprochement between the two countries, which had severed ties for 53 years, US President Barack Obama has said he wants to reopen embassies in both capitals before the Summit of the Americas, scheduled in Panama on 10 and 11 April.
Cuba defends Venezuela
But the new sanctions imposed last week by Washington against senior officials in Venezuela and Obama's declaration that the country poses an "unusual and extraordinary threat against the security" of the US could thwart those plans.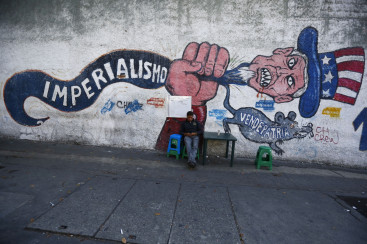 Havana was quick to defend its political and economic ally, Venezuela, which supplies 60% of its oil. The Cuban administration called the sanctions "arbitrary and aggressive".
On Sunday (15 March), the National Assembly granted Venezuelan President Nicolas Maduro special powers that will allow him to rule by decree until the end of the year regarding safety and defence matters, against the "imperialist aggression" of the US.
Shortly after the arrival of Jacobson on Sunday night, the Cuban authorities organised a concert "in support of the people and the Bolivarian government [Venezuela] and for peace, justice and Latin American unity".
If a State Department official acknowledged that Washington was "disappointed" by Cuba's positions, he assured that "[they] will have no impact on these ongoing discussions".
Diplomats and experts told AFP said Cuba's reaction was expected, and echoed the view that it is unlikely to have any effect on the negotiations.
"Cuba had to give support to its ally, but I do not think it will affect the reconciliation process. This process has its own dynamics," a Latin American diplomat told the news wire.
This follows the first session of talks which saw major differences over US immigration policy, with Americans declaring they would continue granting asylum.
The Cubans described it as a "reprehensible practice" that encouraged Cuban doctors to defect.
Heading the Cuba team, Vidal said the policy violates a bilateral agreement to promote safe, legal and orderly immigration, reports Reuters.
Unlike the last two rounds of discussions, Jacobson and Vidal have not planned to speak to the press at the conclusion of these negotiations – suggesting that they may not give rise to major announcements.