US President Obama has signed an executive order declaring Venezuela a "national security threat" and ordered sanctions be imposed on seven officials from the Latin American country - a possible precursor to sanctions against the country itself, as previously seen in Iran and Syria.
The executive order marks a new low for relations between the two countries, which were already strained following last week's call by President Nicolas Maduro to limit the number of US embassy staff in Caracas from 100 to 17.
In a statement White House spokesman Josh Earnest said: "Venezuelan officials past and present who violate the human rights of Venezuelan citizens and engage in acts of public corruption will not be welcome here, and we now have the tools to block their assets and their use of US financial systems."
The White House warned Caracas against blaming Washington for the country's failings and demanded Venezuela release all political prisoners, including what it said were "dozens of students."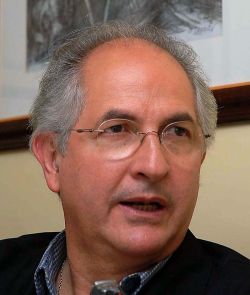 "We've seen many times that the Venezuelan government tries to distract from its own actions by blaming the United States or other members of the international community for events inside Venezuela," said Earnest.
"These efforts reflect a lack of seriousness on the part of the Venezuelan government to deal with the grave situation it faces."
The executive order signed by Obama targets those people suspected of involvement in abuse of human rights, acts of violence or involved in public corruption. They include intelligence service head Gustavo Gonzalez, former National Guard commander Justo Noguero and director of the country's police Manuel Perez. All would be barred from entry into the US, have US assets frozen and US citizens would be barred from doing business with them.
US official stressed ordinary Venezuelan people and the country's economy would not be targeted.
Venezuela will make a formal response shortly, the country's foreign minister told reporters. "We will soon make public Venezuela's response to these declarations," said Delcy Rodriguez. He later tweeted that the country's Washington charge d'affaires has been called home for consultations.
Since the death of former President Hugo Chavez in 2013 President Maduro has pursued similar economic and social policies but the country is in political turmoil and has one of the world's highest murder rates.
Arrests of opposition politicians are common, as was seen in the imprisonment in February (2014) of the mayor of Caracas Antonio Ledezma.