Rohingya refugees have begun rebuilding their flimsy homes after they were destroyed by a cyclone packing winds of up to 135kph (85mph). Cyclone Mora struck the coastal Bangladeshi district of Cox's Bazar, home to refugee camps for Rohingyas who have fled their homeland in northwest Myanmar.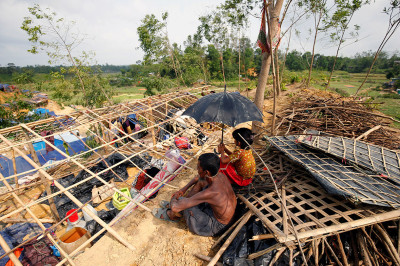 Shamsul Alam, a Rohingya community leader, told Reuters that damage in the camps was severe with almost all the 10,000 thatched huts in the Balukhali and Kutupalong camps destroyed. "Most of the temporary houses in the camps have been flattened," Alam said.
Authorities in Cox's Bazar and neighbouring Chittagong district evacuated 350,000 Bangladeshis from low-lying areas before the storm roared in from the Bay of Bengal. But most Rohingyas remained in their flimsy shelters in the camps when the storm struck, with priority given to evacuating only the most vulnerable, like heavily pregnant women.
Beyond the camps, officials are also assessing the damage elsewhere in Cox's Bazar. The chief administrator said 17,500 houses had been completely destroyed and 35,000 partially damaged in the district. "Almost all rickety houses in the district were completely or partially destroyed by the cyclone. Not only Rohingya houses," Hussain said.
The Rohingya are a Muslim minority in predominantly-Buddhist Myanmar, also known as Burma. They are concentrated in western Rakhine State, which is adjacent to Bangladesh. Their numbers have been estimated at about 1.3 million.
The UN says the Rohingya are one of the most persecuted groups in the world. Neither Bangladesh nor Myanmar recognises them as citizens. In Buddhist-majority Myanmar, even the name Rohingya is taboo. Myanmar officials refer to the group as "Bengalis" and insist they are illegal immigrants from Bangladesh, even though most have lived in the country for generations.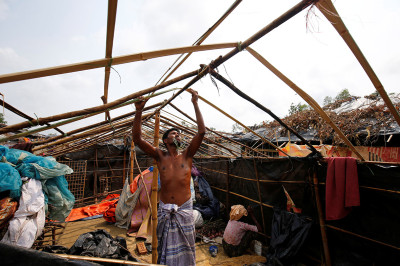 The Bangladeshi government has estimated that there are about 350,000 Rohingyas in Bangladesh. In predominantly Buddhist Myanmar, where Rohingyas are officially denied citizenship and classified as illegal immigrants, about 120,000 of them have been internally displaced by communal violence over recent years and are living in camps.
In a report released on 3 February, the United Nations human rights office said Myanmar's security forces have committed mass killings and gang rapes of Rohingya Muslims and burned their villages in a campaign that "very likely" amounts to crimes against humanity and possibly ethnic cleansing.
Witnesses had testified to "the killing of babies, toddlers, children, women and elderly; opening fire at people fleeing; burning of entire villages; massive detention; massive and systematic rape and sexual violence; deliberate destruction of food and sources of food," the report said.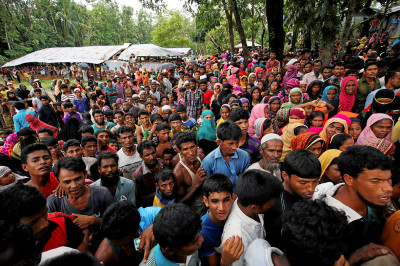 The cyclone formed after monsoon rains triggered floods and landslides in Sri Lanka, off India's southern tip, killing at least 200 people in recent days. Other areas received heavy to very heavy rainfall. In the eastern Indian state of Bihar, 24 people have been killed in recent days, either by lightning or in collapsed dwellings.
While the rains bring death and destruction every year, they also underpin life across the region. Monsoon rains arrived at on India's southern coast on Tuesday (31 May), a weather office source said, making it the earliest since 2011 and setting India up for higher farm output and robust economic growth.