The UK has pledged an immediate donation of £2m to help communities affected by Super Cyclone Pam, which tore through the islands of Vanuatu leaving death and destruction in its wake.
The Department for International Development is making up to £1m available to international aid agencies and UN organisations working in the region and another £1m will be available via the Rapid Response Facility.
International Development Secretary Justine Greening said: "All our thoughts are with the people of Vanuatu as they start to assess the full scale of this disaster.
"Our support will ensure relief agencies can provide temporary shelters; protect vulnerable people, especially women and children; and provide emergency supplies as the country responds to this emergency."
It is feared the final death toll from the cyclone, described as one of the worst ever by UNICEF New Zealand, may not be known for days or even weeks. Winds reaching 210mph devastated the capital, Port Vila, which has a population of 47,000 and is said to be without electricity and running water.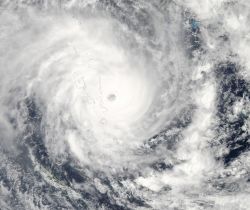 UNICEF's Alice Clements told ABC: "It felt like the world was going to end. It's like a bomb has gone off in the centre [of Port Vila]. There is no power. There is no water. We are hearing unconfirmed reports of casualties and lots of wounded."
However the worst-affected communities are feared to be isolated villages scattered throughout the 65 inhabited islands of the archipelago, which are difficult to reach even in good conditions.
Many people in the outer islands live in thatched huts which would be extremely vulnerable to the powerful winds. World Vision's emergency communications officer Chloe Morrison said there were reports of whole villages being wiped out.
Speaking from a Japan conference on global risk, a visibly upset President of Vanuatu Baldwin Lonsdale said: "I stand to appeal on the behalf of the government and people of Vanuatu to the global community to give a lending hand in responding this very current calamities that have struck us."
The Cyclone is now heading for New Zealand but is believed to be losing much of its destructive power.