Reports are continuing on the widespread devastation wreaked by Cyclone Pam on the South Pacific island archipelago of Vanuatu.
Many houses in the capital, Port Vila, have been flattened. "People are wandering the streets," Tom Skirrow of Save the Children told the BBC.
The category five tropical storm is one of the most powerful ever recorded in the region. Pam is reported to have descended with winds of up to 270 km/h (170mph) as well as torrential rain.
Pam is reported to have descended with winds of up to 270km/h (170mph) as well as torrential rain.
Unicef spokeswoman Alice Clements has described the cyclone as, "15 to 30 minutes of absolute terror" as it passed over Port Vila. "I saw the sliding doors from my three storey hotel room completely blow away – it was terrifying," she says.
Skirrow added: "The scene here this morning is complete devastation – houses are destroyed, trees are down, roads are blocked and people are wandering the streets looking for help."
Chloe Morrison is a communications officer with charity World Vision who is in Port Vila. She says that that streets are scattered with roofing, uprooted trees and toppled power lines.
"It's still really quite dangerous outside. Most people are still hunkering down,'' she says. "The damage is quite extensive in Port Vila but there are so many more vulnerable islands. I can't even imagine what it's like in those vulnerable communities.''
Skirrow says that eight people are so far confirmed dead.
There are unconfirmed reports that 44 people have died in Penama province in the north-east of Vanuatu, according to the UN Office for the Co-ordination for Humanitarian Assistance (UNOCHA).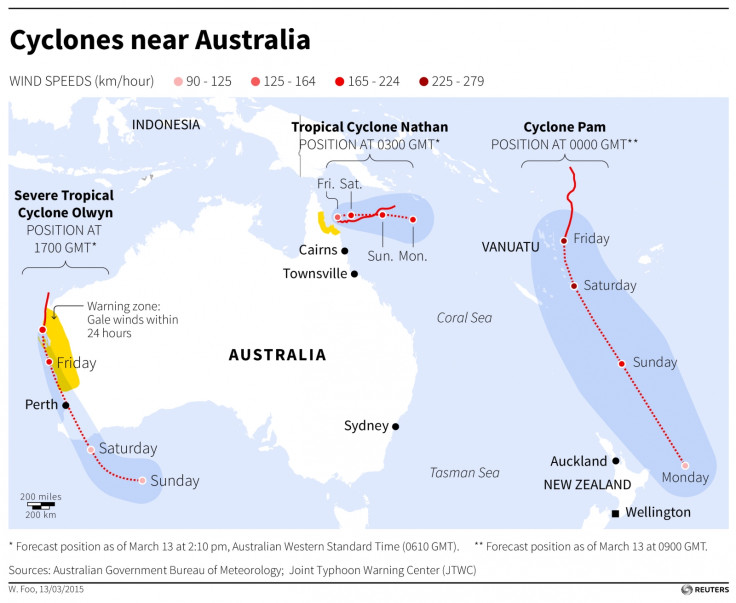 Because the archipelago contains many isolated and scattered communities the full scale of the tragedy is likely to be unknown for some time – possibly several weeks. Telephone landline networks and mobile towers have been severely damaged, hampering communications.
Vanuatu's President Baldwin Lonsdale says he has a "heavy heart" and is appealing for aid. Australian Foreign Minister Julie Bishop says the country will send a crisis response team to Vanuatu if needed. "We are still assessing the situation, but we stand ready to assist."
The cyclone is expected to head past the north of New Zealand in approximately two days.
Cyclone Pam is one of three cyclones in the area of and Australia. Cyclone Olwyn – which is classed as a "severe" – is hugging Australia's west coast, while and Cyclone Nathan is on the north-east coast of the country.