A powerful tropical cyclone has hit the west coast of Australia, bringing heavy rain, flooding and winds of more than 100mph.
Cyclone Rusty had been intensifying offshore for several days before the Category 3 storm moved inland with winds of up to 102mph at its core.
Rusty made landfall at Pardoo Station, 75 miles (120km) northeast of Port Hedland.
There were no reports of injuries or loss of life. Areas hardest hit by the storm were expected to see 2ft of rain in 24 hours.
It had been feared that Port Hedland, one of the major terminals for iron ore exports, would bare the main force of Rusty and has been closed all week in preparation. The storm started to veer away, however, before making landfall.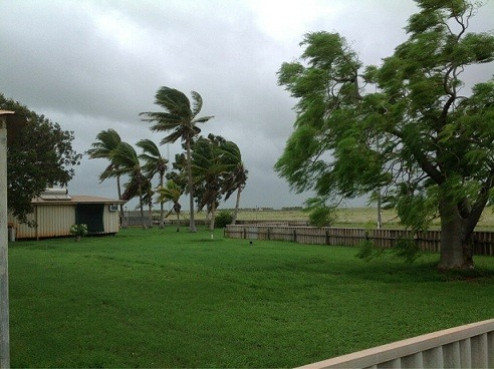 Neil Bennett of Australia's Bureau of Meteorology (BoM) said: "It looks as if Hedland has dodged the bullet, so to speak, because the worst of the winds are away.
"Hedland has been experiencing a constant period of gale-force winds for over 36 hours now. And that's unprecedented [for that area]."
As Rusty continues to make its way inland, coastal areas between Pardoo and Whim Creek remained on red alert and residents were advised to remain in shelters. Cyclones are erratic and can change direction without warning.
Residents in neighbouring areas such as Marble Bar have been warned that Rusty is heading towards them. There are fears of flooding in coastal areas of Pilbara.
A spokesman for BoM said: "Rusty is likely to weaken as it passes over land, decreasing below category 3 and gradually reducing intensity to below cyclone intensity overnight Thursday/Friday.
"The speed of the system is likely to lead to larger than usual rainfall accumulation, leading to concerns of major flooding in the De Grey.
"Significant flooding is also possible in the Upper Fortescue catchment."