Chancellor of the Exchequer George Osborne will announce plans to provide an extra £2bn (£3.1bn, €2.5bn) for NHS frontline services in his autumn statement on Wednesday.
Osborne says the extra funding – available for the 2015-16 financial year – is possible because of the austerity measures which have been implemented since the 2010 general election and the UK's growing economy.
A draft of Osborne's speech has been circulated. He is expected to say: "You can't have a strong NHS without a strong economy to pay for it. If you don't have a long-term plan for the economy, you don't have a plan for the future of the NHS. We have both. It's because our economy is growing, and we've kept a tight control on the finances, that we can do more for the NHS."
Currently the NHS budget stands at £113bn and next year this will rise to £115bn.
Last week the King's Fund health think tank said another £2bn was the minimum extra funding required by the NHS to rectify a swiftly-growing black hole in its finances. Targets for operations, cancer treatments and accident and emergency are all being missed.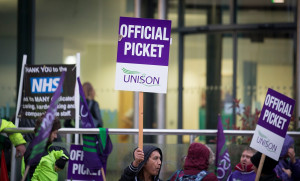 NHS bosses have put together a five-year plan to attempt to rectify the deficit, partially a result of a rise in hospital admissions and an ageing population.
Labour claims the current funding crisis could have been avoided had Prime Minister David Cameron not embarked on a £3bn reorganisation of the NHS. Labour says it will inject £2.5bn into the NHS over the five-year term of the next parliament if elected, partly using revenue from its proposed "mansion tax".
"NHS patients are already seeing waiting times and cancer care heading downhill on this government's watch," says shadow health secretary Andy Burnham. "People will fear that much worse will be in store next year. It is clear you can't trust the Tories with the NHS."
Burnham is also concerned about the possible implications if the coalition forges ahead with plans to include the NHS in its controversial Transatlantic Trade and Investment Partnership (TTIP), which could make privatisation of the health service "irreversible".