The father of a 19-year-old former Stanford University student found guilty of sexual assault has been widely criticised for claiming his son's jail sentence was "a steep price to pay for 20 minutes of action".
Brock Allen Turner was sentenced to six months in a county jail with probation after being found guilty of three felonies including assault with intent to rape, in a sentence that has caused uproar for its leniency.
Turner had assaulted an unconscious woman outside a party on the university's Palo Alto campus on 18 January and left her naked body behind a dumpster. He could have faced up to 14 years in prison, but the prosecution had requested he serve six years in jail.
However, he was handed a lighter sentence because, Judge Aaron Perksy said, "A prison sentence would have a severe impact on him". Turner is likely to spend three months in prison with good behaviour, Mercury News reported, and will be a registered sex offender for life.
Turner's father Dan Turner penned an open letter stating his son had paid "a steep price for 20 minutes of action" and said he had been so upset by the case he had gone off his food.
"Brock's life has been deeply altered forever by the events of Jan 17<sup>th and 18<sup>th," Turner wrote. "He will never be his happy go lucky self with that easy going personality and welcoming smile."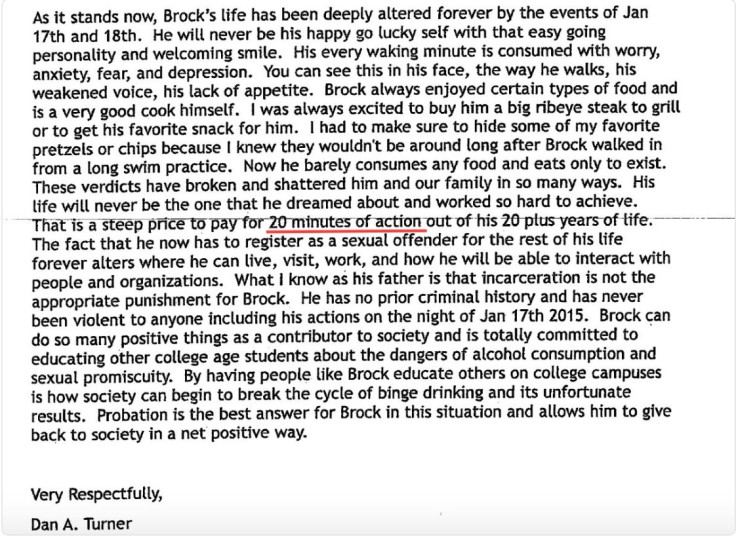 The letter has provoked a furious reaction in a case that has prompted a great deal of commentary due to Stanford's elite status and poor history at following up accusations on sexual assault on campus; where only four out of 175 reported sexual assaults between 1997 and 2009 were investigated, the Daily Mail reported.
Supporters of Turner had expressed fears his trial had drawn more attention because of his status as a sports star (Turner was on the varsity swimming team); something his detractors pointed out had counted in his favour – indeed his "record of real accomplishment" was frequently mentioned by his defence.
Turner's victim had written a powerful statement about the attack, which has been released by Santa Clara County and also widely shared on social media.
In her statement "Emily Doe" said the only admission of guilt Turner had made was that he had drunk too much alcohol; a sentiment that seems to have been echoed by his father.