A female friend of the former Stanford university student found guilty of sexual assault pleaded with the judge in his case not to be politically correct, adding campus rape happens because some universities are "party schools".
Brock Allen Turner, 19, sexually assaulted an unconscious woman outside a party on the university's Palo Alto campus on 18 January 2015 and left her naked body behind a dumpster close to the fraternity house where the event was taking place.
Turner had claimed that the pair went outside the Kappa Alpha House, where the party was taking place, and kissed. He said he took off her underwear, penetrated her with his hands and touched her breasts, but never took off his pants. According to Turner, the woman appeared to be enjoying herself as she rubbed his back.
The victim said she had drunk too much at the party, passed out, and only regained conciousness later in hospital.
Brock claimed his "intentions were not to try and rape the girl without her consent" but to "hook up "with a girl'. He said he stumbled away thinking he would vomit when he noticed another man near him asking what he was doing. Turner was detained after being spotted by two cyclists, before trying to flee.
Last week, Santa Clara County Superior Court rejected his defence and he was found guilty of three felonies including assault with intent to rape.
In a letter, Turner's friend Leslie Rasmussen told Judge Aaron Persky, who has been criticised for handing Turner a 6-month sentence for a crime that carries a maximum 14-year jail term, that the All-American swimming champion was "very respectful of everyone".
Rasmussen's statement was shared on Twitter by Stanford Law professor Michelle Dauber, and read: "Brock is not a monster. He is the furthest thing from anything like that, and I have known him much longer than the people involved in this case. I don't think it's fair to base the fate of the next ten + years of his life on the decision of a girl who doesn't remember anything but the amount she drank to press charges against him.
"I am not blaming her directly for this, because that isn't right. But where do we draw the line and stop worrying about being politically correct every second of the day and see that rape on campuses isn't always because people are rapists. It is because universities market themselves as the biggest party schools in the country. They encourage drinking."
Part of Turner's defence, and his own impact statement, was that he had been wrong to drink alcohol – something his victim, known only as Emily Doe, disputed in her own powerful victim impact statement, explaining: "you were not wrong for drinking. Everyone around you was not sexually assaulting me. You were wrong for doing what nobody else was doing, which was pushing your erect dick in your pants against my naked, defenceless body concealed in a dark area".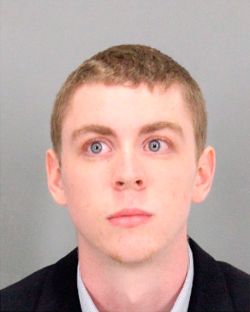 Turner said in his defence he was planning to educate people about the dangers of drinking – something his victim said showed he did not understand that drinking was not the crime he had committed.
The university's poor record on investigating rape came under fire as the case went to trial – with just four out of 175 reported sexual assaults between 1997 and 2009 looked into.
Rasmussen's statement continued: "I think it is disgusting and I am so sick of hearing that these young men are monsters when really, you are throwing barely 20-somethings into these camp-like university environments, supporting partying, and then your mind is blown when things get out of hand.
"This is completely different from a woman getting kidnapped and raped as she is walking to her car in a parking lot. That is a rapist. These are not rapists. These are idiot boys and girls having too much to drink and not being aware of their surroundings and having clouded judgement.
"I'm not saying that is every case because I know there are young men that take advantage of young women and vice versa, but I know for a fact that Brock is not one of those people."
Turner is expected to serve three months in a county jail with good behaviour for the crime - a sentence that has been criticised by his father for being too harsh, and by hundreds of people on social media for being too lenient.