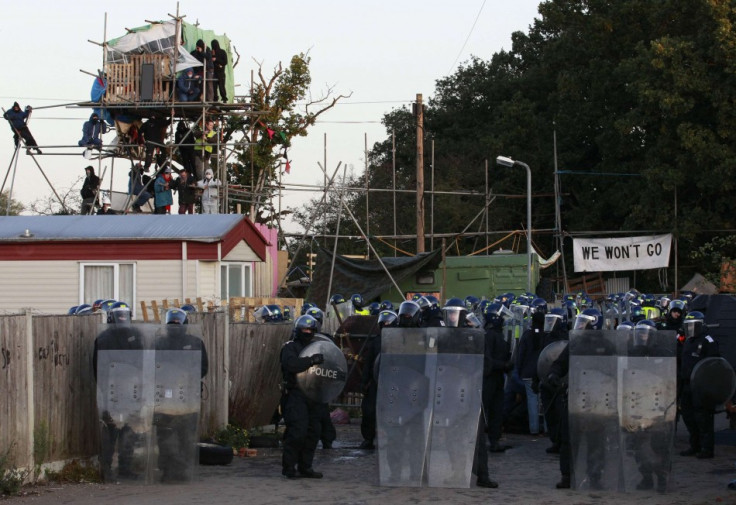 After a ten-year legal battle and a number and a number of last minute appeals, the eviction of Dale Farm has started.
There have been clashes between supporters and the bailiffs and riot police at the illegal traveller's site, as bricks and missiles were thrown as police stormed the barricades blocking the entrance to the site, near Basildon in Essex.
Police said two people were shot with Taser stun guns, while one person was arrested.
There are reports from inside the site that police are also using patons to control the area.
"Batons have been used on supporters and residents from the beginning of the eviction," said The Dale Farm Solidarity Campaign.
"One woman sustained such serious injuries from police that she had to be admitted to hospital."
Bailiffs stared to clear the travellers just after 7 o'clock this morning, leading to angry confrontations. Makeshift barriers were set up by the residents of Dale Farm, which police and bailiffs have begun to clear away.
"Officers have this morning entered the Dale Farm site following intelligence which informed the commanders that anyone entering the site was likely to come up against violence and a serious breach of the peace would occur," said Essex Police in a statement.
"Intelligence received indicated protesters had stockpiled various items with the intent of using these against bailiffs and police.
"The first officers on the site were attacked with missiles being thrown, including rocks and liquids. These officers were fully equipped to deal with this situation."
Electricity has been cut off at the site, which protestors have said cut off medical equipment belonging to the elderly residents.
Supporters have set fire to a caravan inside Dale Farm and some have threatened to chain themselves with bicycle locks to the barricades by their necks.
Earlier the leader of Basildon council Tony Ball said that no further negotiations would take place. A meeting between the Travellers and Basildon council broke down, though the council insisted these were purely to discuss health and safety and not a last minute negotiation.
"This meeting was never going to be a negotiation about if or when, it was about how. And this was made very clear when the meeting was arranged. We now believe that those who want to leave peacefully have already done so and those who are left have made it clear that they have no intention of co-operating with the council," said Ball.
The eviction could cost up to £18 million following the 10-year battle.