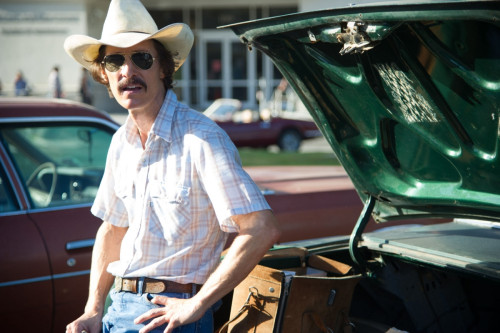 The lone star of Texan actor Mathew McConaughey keeps rising and rising, and now reaches a career best in Dallas Buyers Club, a biopic that sees the actor shed the pounds and strip away the layers to play real-life Aids patient cum drug dealer Ron Woodroof. A by the numbers account of the difficulties for those living with the disease to get proper treatment in the 1980s, his personality manages to keep this prosaic picture highly charged.
Woodroof is a low life homophobic electrician whose only cares in the world are drink, drugs, women and rodeo rides, until he is delivered the devastating bombshell that he is HIV-positive and has only 30 days to live. Rather than become a human guinea pig subjected to ineffective drug treatment at the hospitals, he starts a business bringing in unapproved medication from around the world, then selling membership to his club for those seeking treatment.
Much has been made of the fifty pounds McConaughey lost to play the role, and whilst his appearance on screen is startling, what's more remarkable is that for playing someone severely ill just how alive he is, making Woodroof a man whose ragged physique is overcome by his indomitable spirit. Full of rage and rebellion at his misfortune, and later a noble determination to help others in his situation, his charisma conjures up a character who feels far more rounded than the afflicted victim you'd think this tale would present.
The other characters are unfortunately far less developed, from Jared Leto's transsexual Rayon to Jennifer Garner's brooding doctor. The seriously underrated Leto is electric as Ron's business partner and later friend, but serves as more of a gateway for Woodroof to the gay community than as a fleshed out character. The most interesting parts of the film come from when we see Woodroof ostracised from his fellow macho Texan trailer trash and finds himself coming in to contact with a homosexual community he previously had no concept of. But the effects Aids had on the LGBT community, and the activism towards better treatment, is never truly covered.
Instead the film prepares a banal dichotomy between Woodroof's outlaw drug dealer, and the villainous bureaucratic stooges from America's Food and Drug Administration who stand in his way. Garner's Dr Saks is again here the link to the other world of medical professionals, but we never see more than hushed discussions of big pharmaceutical companies working with hospitals and the FDA to make sure their ineffective treatment is tested. Saks is therefore left with little to do, and though scenes later on between her and Woodroof are designed to suggest a romantic spark, a lack of development in their relationship leaves you unfulfilled.
Canadian director Jean-Marc Vallée cleverly realises that in telling the tale less is more; the sparse set up of some scenes along with a lack of non-diegetic music doing a good job of grounding McConaughey's character in his washed out Texas surroundings. Whilst Woodroof's plight against the authorities to distribute his drugs never becomes sentimental, a more probing social examination of how people and whole communities had their lives turned upside down by Aids would have been far more satisfying.