Great Britain's Dan Evans says 'distractions' coupled with a lack of desire will prevent him becoming a top 100 player after his narrow Davis Cup defeat to Dmitry Tursunov.
Evans, ranked 325 in the world, took Tursunov, a former top 20 player, to five sets in Coventry before eventually yielding as Russia took the lead in the first Davis Cup Group I rubber.
The Davis Cup represents a world away from the rigours of the Futures and Challengers circuit Evans often occupies, and the 22-year-old says if he had greater motivation to train, he could become the British No.2.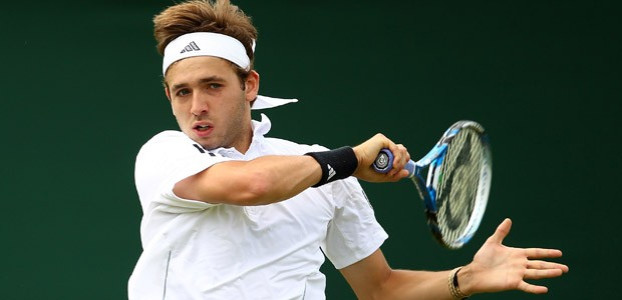 "I don't train hard enough and don't work hard enough day in day out," Evans said after his 4-6 7-6 4-6 7-5 4-6 defeat to world No.68 Tursunov.
"I know that's the reason, I'm obviously pretty bad at my job. I want to push on, it's not that I don't want to do it, it's just for whatever reason, distractions. I just need to play tennis.
"It's easier said than done, isn't it? Thousands of people have told me to do it but I'm yet to do it for a sustained period of time but when I do, I can obviously play pretty well.
"I definitely think I will be top 100, I definitely think that. It's not that I don't think I'll be top 100. Hopefully now I've been working hard from the start of the year hopefully this year I'll push on and you never know what can happen. A week in tennis can change your life, ask Jonny Marray.
"You have to realise that you're being treated like a top 10 player for a week as well, it's not like a normal tournament, not on the same basis as any other tournament you play. You stay in decent hotels, have massages, stretches.
"You don't have to worry about paying for anything. It's not like a £10,000 event in Sunderland where you have to pay for a hotel room.
"I'm from a pretty working class background, there are just other things; going out. I've always been at squash or tennis clubs.
"I've got mates who are not coming to Davis Cup every week. It's difficult. It's up to me. If people are saying it then I'm the idiot who goes along with it and goes and does it."
During the tie with Slovakia in February 2012, Evans defeated both Lukas Lacko and Martin Klizan to lead Britain to victory to provide evidence of his potential.
But having had his Lawn Tennis Association funding removed, Evans relies on the bonus scheme, which rewards players on the Futures, Challengers or ATP tours, for the majority of his income.