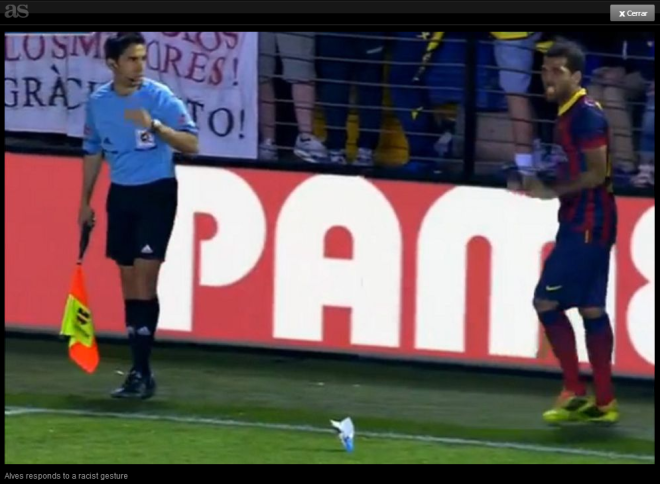 Barcelona right-back Dani Alves has claimed that racism against foreigners is rife in Spain after he was hit with a banana during Sunday's 3-2 win at Villarreal.
The Brazilian international defender was about to take a corner when the banana landed on the pitch. His response was to pick it up, peel it and take a bite, before discarding it and swiftly taking the corner kick.
And Alves, who has been living in Spain for more than a decade, has now heavily criticised the Spanish society for their behaviour.
"There is racism against the foreigners. They sell their country as a first-world country but in some things they are backward," Alves was quoted as saying by Spanish newspaper AS.
"If I could, I would post a picture of the supporter on internet to embarrass him."
The incident has caused uproar on the social networks, with a number of athletes posting photos with a banana to support Alves and react to racism.
"I am surprised by everyone's support. It was an action without thinking about the repercussions. The world has changed and we must evolve with it."
Meanwhile, Villarreal have released a statement claiming that they have already identified the supporter who throw the banana thanks to the cooperation of the people sitting around the individual, backed up by CCTV footage.
The supporter, who is a club member, will receive a lengthy stadium ban in addition to a heavy fine, while Spain's Anti-Violence Commission is set to discuss the case before imposing a further punishment.
The club have released the following statement outlining the decision:
"Villarreal CF would like to make it clear that the club deeply regrets and condemns the incident that happened yesterday during the match against FC Barcelona in which a fan threw an object onto the pitch at El Madrigal.
"Thanks to the security forces and the invaluable assistance of the Villarreal faithful, the club has already identified the culprit and has decided to withdraw his season tickets and issue a lifetime ban barring him from accessing El Madrigal.
Fifa president Sepp Blatter also criticised the incident on his Twitter account, writing: "What Dani Alves tolerated last night is an outrage.
"We must fight all forms of discrimination united. There will be zero tolerance at the World Cup."