Tottenham Hotspur chairman Daniel Levy has offered reassurances that the building of the club's new £800m (€950m) stadium at Northumberland Park will not impact upon future transfer plans.
Spurs host Manchester United on Sunday (14 May) in the final match to be held at White Hart Lane. They plan to spend the 2017-18 season at Wembley before moving into a new 61,559-seater stadium built adjacent to their former home. The new stadium will be the largest club ground in London.
Levy warned during an interview with NBC in February that such a project would inevitably lead to a lot of debt that would need to be repaid.
Responding to a question from Tottenham Hotspur Supporters' Trust (THST) member Michael Green during a board-to-board meeting held on 2 May, he insisted that no issues regarding the new stadium would impact upon transfer business.
"MG asked specifically about the impact of the stadium build on transfer dealings," it notes in the relevant minutes released by the THST on Tuesday. "Are these completely independent of any pressures on the stadium? DL stated that the stadium issues had no bearing on transfer dealings. But success on the field was obviously important, as always."
Levy confirmed that Tottenham would not look to sell any key players to raise funds for non-footballing matters and that the club's recent success under Mauricio Pochettino – Spurs recently won nine top-flight games in a row for the first time since 1960 before finally seeing their spirited title pursuit all but ended by a 1-0 defeat at West Ham United – would not place any excess strain on their current wage bill.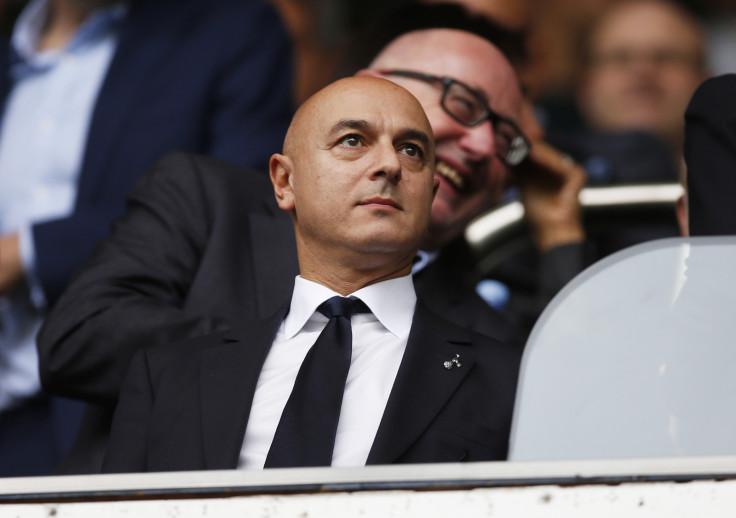 "MG asked if he'd be tempted to cash in on a player," the report continued. "DL said no player would be sold who they didn't want to sell for non-footballing reasons.
"MC [THST co-chair Martin Cloake] asked whether there was more pressure on the wages side with the increased success of the team. DL said that all players were under contracts, contracts they were happy to sign at the time. They would be expected to honour those contracts. They wouldn't have had a reduction if things had gone badly."
On contingency plans for any possible overrun on the new stadium build, Levy reiterated that there existed the "option to stay at Wembley for a second season". However, he hoped that would not be necessary.
Among the numerous other topics discussed were the plans for the final outing at White Hart Lane, with Tottenham executive director Donna-Maria Cullen outlining that a farewell ceremony featuring former players and dignitaries would be broadcast live – pending rights clearance. Levy further revealed that the demolition of the 118-year-old stadium will begin after the keys are handed over the following day.