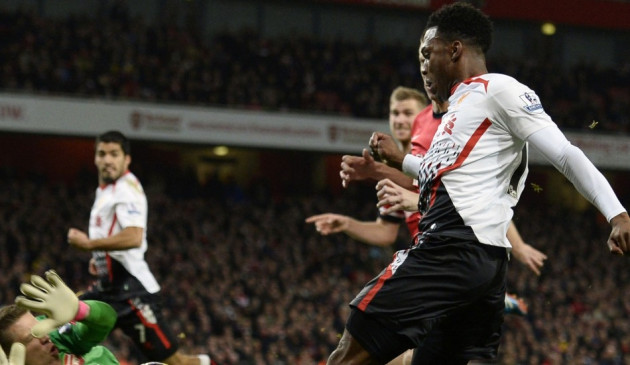 Liverpool striker Daniel Sturridge says Luis Suarez should be allowed to leave Anfield if he hands in a transfer request next summer.
Suarez has rediscovered his best form since returning from a 10-match ban, scoring six goals this season alongside Sturridge leading to suggestions Real Madrid could target the Uruguay forward as early as the January transfer window.
The summer was dominated by Suarez consistently expressing his desire to leave Liverpool, with Arsenal having two bids for his services rejected, before the 26 year old made a dramatic U-turn and pledged his immediate future to the Reds.
The former Ajax striker's future appears to rest on whether Liverpool can qualify for the Champions League, and despite losing to leaders Arsenal at the weekend, two defeats in the club's opening 10 league games suggest Brendan Rodgers' side are equipped to make a genuine top four assault this term.
But Sturridge admits that despite the club wanting to hold onto him should Suarez want to leave in the near future, Liverpool shouldn't stand in his way.
"It'll be great for him to stay and everyone wants him to stay at the club," Sturridge told talkSPORT.
"But it's up to Luis to decide what he wants to do, everyone wants him to stay but if Luis decides it's best for him to move on then that's the way it's got to be.
"As for everyone else, everyone wants Luis to stay."
Sturridge and Suarez are meanwhile spearheading the most potent striker-partnership in the Premier League, with both players having scored the most top flight goals in 2013.
The pair fired blanks in defeat to Arsenal but the weekend visit of Fulham, who have conceded the second-most goals outside the bottom three this season, provides the next opportunity for Sturridge and Suarez to enhance their reputation.
"It's great to play with him, we give defenders problems and we're both different footballers in the way we play the game," Sturridge added.
"It's good to have a strike partner that you can bounce off and the team behind us and they help us out a lot and work hard for us and they make our job very easy so we just go out there and do what we do best."