Liverpool striker Daniel Sturridge says watching Robbie Fowler during his days at Manchester City helped mould him into the player he is today.
Fowler scored 183 goals over two spells for The Reds, earning legendary status as one of the Anfield club's finest strikers of the modern era.
Sturridge has begun his own career at Liverpool with a flourish, scoring in four of his opening six appearances, and after contributing to a string of impressive performances he admits watched a number of former strikers to help develop his way of playing.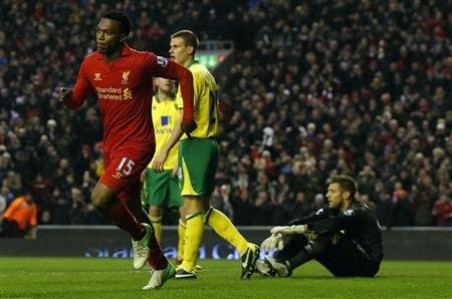 "I was fortunate to train with Robbie Fowler during my time at Manchester City," Sturridge said.
"He could score with any part of his body. With both feet he was really clinical and despite not being the tallest he was very dangerous in the air. It taught me to improvise.
"I know a lot of players at an early age move positions and eventually settle somewhere, but my role models were always strikers.
"I watched Ian Wright, Nicolas Anelka and Dennis Bergkamp. I also liked Faustino Asprilla. Whenever I scored I always did his celebration - the forward cartwheel.
"The buzz I got from scoring as a kid is exactly the same as it is now. It's that anticipation of knowing where the ball is going to land in front of you and the release of emotion when it ends up in the net.
"The pleasure is greater now because of the noise of the crowd when it happens. You also feel the disappointment when it doesn't go in. But then you go again and make sure you don't miss next time."
Goals against Mansfield, Manchester United, Norwich City and last weekend in the 2-2 draw against Manchester City have contributed to an impressive start to Sturridge's Liverpool career.
But having tasted defeat against United and Oldham Athletic in the FA Cup, amid a run of decent form for Liverpool, the England international has experienced contrasting emotions already in his career with the club.
"After we beat Mansfield on my debut I felt great. Then a week later after Man United I was at rock-bottom. I've not felt like that for a long time," the England international added.
"When you don't play, a loss doesn't affect you as much because your body isn't filled with adrenalin and emotion. After United I felt like I'd let everyone down.
"I've grown to handle it but I hate losing. When I was younger I'd cry and get angry. The same emotions are there but I manage to keep them inside.
"Losing is the worst feeling. It doesn't matter if I score five goals - if we lose 6-5, the goals don't matter."