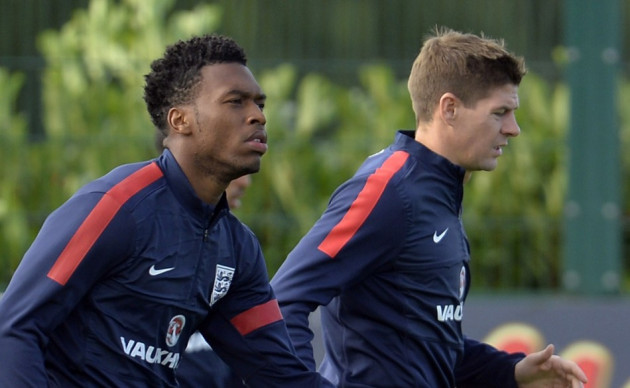 Liverpool captain Steven Gerrard and striker Daniel Sturridge are both doubtful for England's double-header against Chile and Germany after limping off against Fulham.
Gerrard aggrivated a long-standing hip problem while Sturridge has a foot injury and the pair were replaced by Joe Allen and Victor Moses deep into the second half of the Reds' 4-0 weekend win.
Both players' availability during the international period is unlikely given their checkered injury history and Liverpool boss Brendan Rodgers says the pair will be checked before joining up with England.
"Steven was a wee bit stiff around his hip and he needs to be assessed," the Liverpool manager said. "They are going to have a look at Daniel, too. He has some soreness and actually hurt his foot against Fulham.
"I just have to see how he is with the medical guys."
Gerrard, who played a part in all four Liverpool goals against Fulham, added: "I've got a bit of a niggle. It's nothing major and I'll get it seen to over the next couple of days and hopefully I can pull through for the England games."
After having undergone groin surgery in April 2011, Gerrard will hope his current hip injury isn't as a result of going under the knife two years ago while Sturridge suffered from a foot injury at the end of last season and also missed England's World Cup qualifiers against Moldova and Ukraine.
The pair's absence won't come as a significant blow to Roy Hodgson, who will use the two fixtures to give untested players including Jay Rodriguez and Adam Lallana their international debuts while Fraser Forster is expected to play in goal.
Gerrard, the England captain, and Sturridge are both expected to make up part of Hodgson's squad which travels to Brazil next summer, a stage which is likely to be the former's international bow.
Rodgers said last week: "Steven probably looks at it as though this is his last international year -- and after the World Cup, that will be all finished and he will have lots of time to rest then.
"If you go to a World Cup in Brazil at 34 years of age you might not have many more championships left in you. Very few players do. I can think of Zanetti and Maldini who have played on late but it's rare.
"It will be Steven's decision but I'm sure in these years now he'll want to maximise every cap, every performance and every minute on the pitch he can, and that's what he's trying to do."