England Under 21 international Danny Rose has revealed how he was pelted with stones and was subject to a torrent of racial abuse during the game against Serbia in Krusevac.
Amid England's youngsters successfully qualifying for the 2013 European Championship, as Connor Wickham's goal separated the two sides, Rose was subjected to vehement abuse through the game, which ended with the Tottenham Hotspur midfielder being sent off, sparking a post-match brawl between both sets of players.
Coach Stuart Pearce confirmed after the game that complaints over abuse the 22 year old suffered had been submitted to Uefa, while Rose, who was sent off in the aftermath for kicking the ball away, says Serbia should be handed a substantial ban from international football.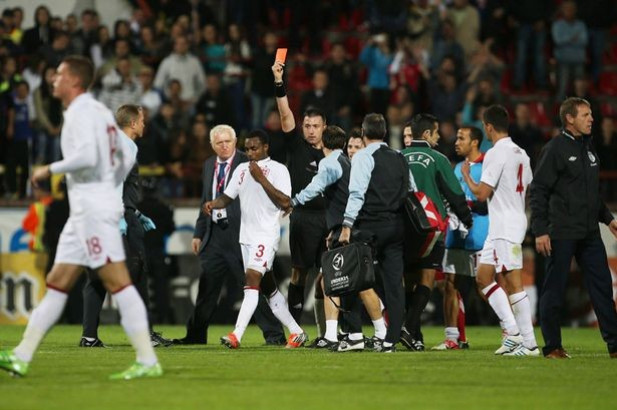 "The monkey chants started when we went out for the warm-up. I asked the lads if they could hear it and they said they could," Rose said.
"I went to see 'Wigs' [England assistant manager Steve Wigley] and I told him what was happening and he just said 'try your best to get through it' and people would deal with it after the game.
"In the first half I went to get the ball for a throw-in and the fans started with the monkey chanting again. But the first half was nowhere near as bad as the second. Two stones hit me in the head when I went to get the ball for a throw-in and whenever I touched the ball there was monkey chanting.
"After 60 minutes my mind wasn't really on the game, I was just so angry. It was just so hard to concentrate and I could have cost the lads the game because I made a few mistakes through not concentrating. My mind wasn't on the game.
"After 90 minutes of abuse I expressed my emotions as soon as we scored. The next thing I know I've turned around and the Serbian players had all run over and surrounded me, pushing me and a brawl broke out.
"I remember getting slapped twice and then I got ushered away - that's when I kicked the ball and the referee sent me off. I don't understand it, the game had finished.
"They have to be banned. I don't understand what else they can learn from it, they have to be banned."
Goalkeeper Jack Butland, coach Martin Thomas and Wigley were all subjected to physical abuse from members of the Serbia team, management and supporters, while Uefa will wait for a report from their delegate who attended the game and referee before opening disciplinary proceedings.
Despite claiming to show a 'zero tolerance against racism' Uefa have often been guilty of presenting a soft stance against prejudice with nominal fines handed out to fans of Russia and Spain during Euro 2012, while a trivial offence involving Denmark's striker Nicklas Bendtner, who revealed a sponsor's logo in celebrating a goal during the Championship, was punished more severely.
Sports minister Hugh Robertson says he has written to Uefa president Michael Platini appealing for action to be taken and is expecting strong sanctions against Serbia.
"The scenes at the end of the game last night were disgraceful," Robertson said. "I have written to Uefa President Michel Platini, in support of The FA, urging them to investigate immediately. Racism in any form is unacceptable and must be stamped out. We would expect tough sanctions from Uefa on anyone found guilty of racist abuse."