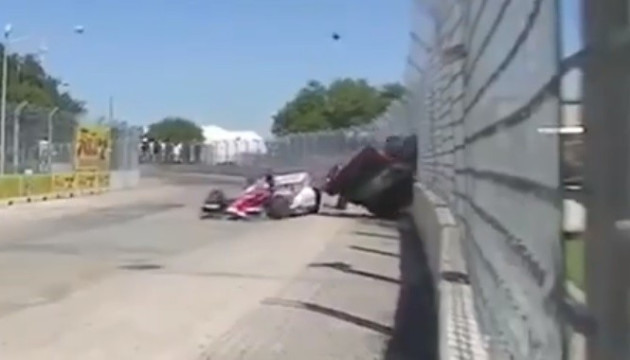 British racing driver Dario Franchitti has been injured after suffering a high-speed crash at the IndyCar Grand Prix in Houston.
The four-time IndyCar champion from West Lothian suffered a fractured spine, concussion and a broken ankle after crashing into the track wall on the final lap of the race.
The 40-year-old's car flipped into the air as he tried to overtake Takuma Sato on the fifth corner. Thirteen spectators were also injured in the crash as debris flew over the safety fence into the crowd.
Franchitti's team boss Chip Ganassi said: "His ankle is a little sore, his back is a little sore. He is going to be OK."
The three-time Indianapolis 500 winner will not require surgery on his injured spine.
Dr Michael Olinger, IndyCar's director of medical services, said: "Franchitti was admitted awake and alert to Memorial Hermann Texas Medical Center in Houston for a concussion, spinal fracture that will require no surgery and a fracture to the right ankle. He will be kept overnight."
The race was won by Team Penske driver Will Power, who told NBCSN following the race: "It just looked bad. I hate seeing that, I just hate it. I just hope he's okay."
Scott Dixon, who finished second, added: "Nobody ever wants somebody to get hurt so thoughts are with everybody that's involved in that accident and hopefully we'll be able [to] see Dario here shortly."
The incident occurred two years after another British IndyCar driver, Dan Wheldon, was killed at the Las Vegas Motor Speedway.
In the wake of Wheldon's death, IndyCar officials said they were looking into ways to reduce the chances of cars becoming airborne and sending debris into the crowd
Following the latest accident, the race promoters said: "An IndyCar official and IndyCar driver, Dario Franchitti, along with two fans were transferred to an area hospital for evaluation. 11 fans were additionally evaluated on site."