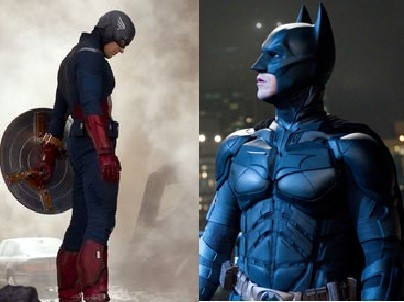 The box office battle between the two biggest superhero films ever made is well and truly under way.
Christopher Nolan's The Dark Knight Rises became the 13th film in history to cross the $1bn (£629m) mark on the same weekend it outgrossed its smash hit predecessor The Dark Knight.
However, while the last chapter in Nolan's Batman series was making huge sums, it still has a way to go to catch up to Joss Whedon's superhero spectacular Avengers Assemble, which pushed its global box office past $1.5bn on the same weekend.
The film remains the biggest of the year and is now the third biggest of all time, behind James Cameron's Titanic and Avatar, both of which made more than $2bn.
The Avengers opened in April, three months before Dark Knight Returns.
Disney and Marvel Studios gave Avengers Assemble's takings a serious boost by screening the film in 1,700 cinemas over the Labour Day weekend in the US. The film has made around $620m in domestic gross, according to Boxoffice.com.
Meanwhile, the most recent Batman actually performed worse domestically than The Dark Knight, making $431m compared to the earlier film's $533m. It is thought that its domestic takings could have been affected by the Aurora shootings on July 20.
Both film's bumper takings were in stark contrast to the family film Oogieloves, which suffered the worst opening weekend ever for a film showing in more than 2,000 cinemas. It made just $448,131 - an average of just over $207 a screen.
The massive success of comic book adaptations has led to Marvel Studios greenlighting a series of sequels, as well as an adaptation of the little-known series Guardians of the Galaxy.
Whedon will return as director and writer of a second Avengers film, and will produce and write episodes for a live-action Shield series.