Bomb threats against British schools, hospitals and airports can be bought on the dark web for less than £5 and executed at a rate of 20 per hour, IBTimes UK can reveal. Our investigation found anonymous hoax calls designed to spread fear of terrorist attacks and evacuate buildings can be placed with just two days' notice.
Iconic locations such as the Shard in London and the Westfield shopping centres can be targeted, one anonymous seller told us, adding that the calls can even be directed to multiple buildings at once for maximum effect. Primary, secondary and high schools can all be targeted, along with universities and even nurseries in the UK, Ireland, US and Canada.
The seller said calls about planted bombs and armed gunmen stalking the corridors of busy buildings could be made just two days after an order is placed. An undercover reporter was offered a price of just $7 (£4.80) per school if more than 10 were ordered at once. "If you want me to call in bomb threats to many schools in the London region or in the UK at one time I can make a discount," the vendor said.
Calls made to UK hospitals cost £40, while individual schools cost just £16. They also boasted of being able to make more than 20 school bomb calls per hour.
A "very high quality digital voice" is used to make the calls, which is said to be "barely noticeable as a digital voice... most of the people that answer the call think it's a real person talking", we were told.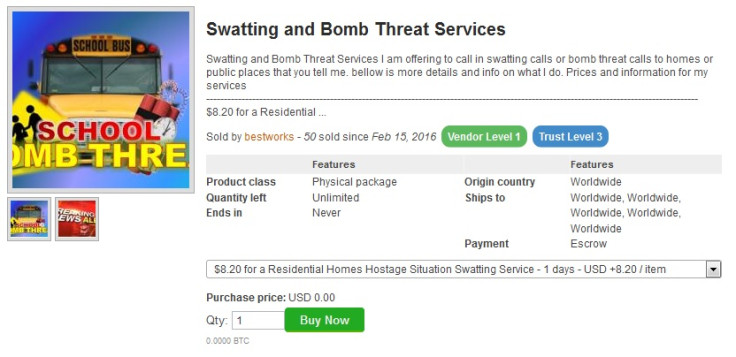 This discovery comes just weeks after 14 schools across London, the West Midlands and Cornwall were evacuated due to a series of bomb scares. According to transaction records, the seller made 50 sales of his service in a single day in February 2016.
Larger and more complex targets such as the Shard cost more, we were told. The seller quoted £52 for a call resulting in the Shard being searched by police and £170 if the 73-storey tower gets evacuated. UK train stations and airports can also be added to the hit list. In all cases, if the calls result in no news stories then buyers are given a full refund.
As proof that the hoaxes work, the seller provided links to news stories caused by the calls, including a shopping centre in Houston, Texas, and a secondary school in Georgia. We were told every bomb threat made through this service has a 90% chance of causing the target building to be evacuated.
The dark web
IBTimes UK found the seller on the dark web, a section of the internet where websites are hidden from search engines such as Google. Dark web sites can only be accessed through the Tor browser and their traffic is anonymised, making it difficult for the police to discover the identities of buyers and sellers. Items are bought with bitcoin, the near-anonymous cryptocurrency, which is also difficult to track.
SIlk Road is the most famous dark web site, earnings its creator millions of dollars from the sale of Class A drugs. The site was shut down by police in October 2013; Ross Ulbricht was found guilty of running the site and sentenced to life in prison without parole in February 2015.
Swatting
As well as schools, the seller boasted about how they can call in bomb threats to universities, government buildings, nurseries and airports. They also offer a 'swatting' service, where a hoax distress call is made to the police, resulting in an armed response arriving at the target's front door. Mumsnet co-founder Justine Roberts claimed to be the victim of a swatting attack in 2015 when her parenting advice website suffered a cyber attack.