An underground website hosted on the Dark Web claims to be asking for Bitcoin donations to help fund the assassinations of President-elect Donald Trump and Vice President-elect Mike Pence.
"As you are all well aware, the consequences of having Donald Trump and Mike Pence as the leaders of the free world is extremely dangerous," reads a statement on the "murder-for-hire" website. "The political, environmental and social consequences will change the United States for the worst."
It continues: "The rise of several white supremacist movements like the KKK and the neo-Nazis trying to eliminate other Americans of different origins cannot be tolerated. We as a society have come too far to go back to this."
The website administrator, who remains unknown at the time of writing, is hosting the website on Tor (The Onion Router) which is an anonymising web browser that is often used to facilitate the trade of drugs, hacked data, internet exploits and other illicit services. Its is headed: Terminating both Donald Trump and Mike Pence.
The administrator claims to be part of a "well-known underground organisation" that has previously "defended and protected the rights of all people against crooked governments and regimes using different cyberattacks." The statement declares that online-based attacks are no longer enough.
"We have to go further as it will require much more than cyberattack to defend ourselves to avoid civil war or another world war," it states, adding: "We have several assets in different branches of government, security and even some working in secret services."
Then comes the sales pitch. "Unfortunately, the plan we need to implement requires a lot of money to pay for equipment, bribes and also to pay those assets," the note claims. "If you [...] wish to see our plan succeed for our society's, children's and planet's sake, you can donate anonymously."
According to technology outlet CSO, which first uncovered the website, the administrator's Bitcoin wallet has received over $88,000 since March this year. However, only $119 has reportedly been collected since the assassination website was launched in late-November. Additionally, CSO said that the Secret Service is "aware" of the domain.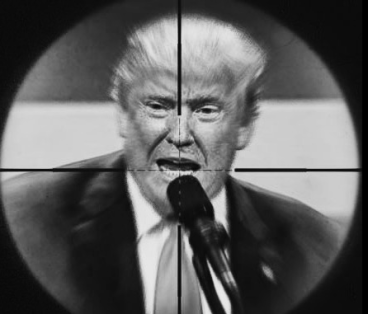 "Just a little scammer"
Interestingly, when looking at the website source code, there is a notice purporting to be from a "hacker" who successfully infiltrated the website to leave a message. The hacker claims to know the identity of the administrator and even published his alleged Reddit username.
"This site is being hosted by the Canadian citizen [redacted]. "He once worked for a Canadian Best Buy's Geek Squad. However, I thought that I had saved some informations (sic) about him on my storage systems, but I can't find them anymore. His name, citizenship and former position are from my memory, but absolutely correct.
"He's actually just a little scammer, but now he's calling to murder the president-elect. I don't see how anyone could sit back and watch someone doing that. I actually planned to send an email to the United States Secret Service about him, but I can't find an appropriate email address of the USSS, so I've to post this here.
The message is signed: "The kind Austrian citizen, 1k4."
These "murder-for-hire" websites only add to the mystique of the Dark Web, however many appear to be scams or honeypot schemes ran by law enforcement. As reported, one notorious website called Besa Mafia was hacked earlier this year and leaked emails appeared to reference links to police investigations.
IBTimes UK contacted the administrator for comment however had received no response at the time of publication.