One of the most notorious cybercrime forums on the internet has been taken offline in an operation carried out by law enforcement agencies from around the world, resulting in the arrests of over 60 people in 18 different countries.
Darkode was a hugely popular and secretive English-speaking cybercrime community, where criminals were able to buy and sell everything from zero-day exploits to botnets and ransomware programs.
The website is currently offline with a takedown notice featuring the logos of the FBI, Europol, the US Department of Justice and the UK's National Crime Agency (NCA), as well as over a dozen national police forces.
The takedown notice says:
This domain and website have been seized by the Federal Bureau of Investigations, Pittsburgh Field Office and the United States Attorney's Office for the Western District of Pennsylvania as part of a joint law enforcement operation by the FBI and international law enforcement agencies acting through Europol.
However when IBTimes UK spoke to Europol and the NCA on 15 July neither would confirm the details of the operation or their part in it – though the NCA added it may be able to share more information soon. There has also been no response from the FBI for a comment.
Reports in Brazil, based on details from the country's Federal Police, suggest the investigation began in March and saw 62 people arrested in 18 different countries around the globe, including the US, UK, Australia, Germany, Romania, Bosnia, Serbia, India, Sweden, Denmark and Colombia.
A search and seizure warrant issued in the Brazilian city of Belo Horizonte led to the capture of the computing equipment seen in the image below, according to a report from Otempo website.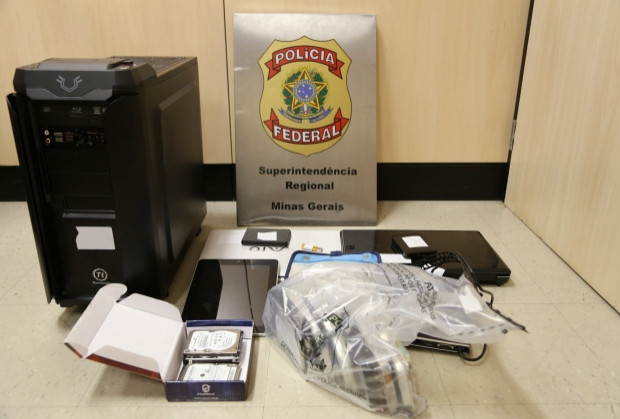 Another report from Globo says that two men were arrested in the city of Goiânia as part of the operation.
Darkode history
The Darkode forum was founded around 2009 by a coder named Iserdo and gained popularity off the back of Iserdo's 'Mariposa' botnet, which was sold through the forum.
Following early success the malware marketplace became very popular among English-speaking cybercriminals and the administrators set up an invite-only system of membership, which led to the forum becoming even more popular.
However in the past couple of years Darkode has seen its popularity dwindle as paranoia set in among administrators as security researchers and undercover law enforcement agents began infiltrating the community.
One of those researchers is Brian Krebs, who has reported multiple times about Darkode and the malware being sold through the marketplace, as well as the administrators who have attempted to kick him out of the forum.
In a blog post on MalwareTech at the end of last year, a researcher showed the close links the administrators of Darkode had with the infamous hacking group Lizard Squad that rose to prominence at the end of 2014 for attacking the Xbox and PlayStation gaming networks, among many other targets.